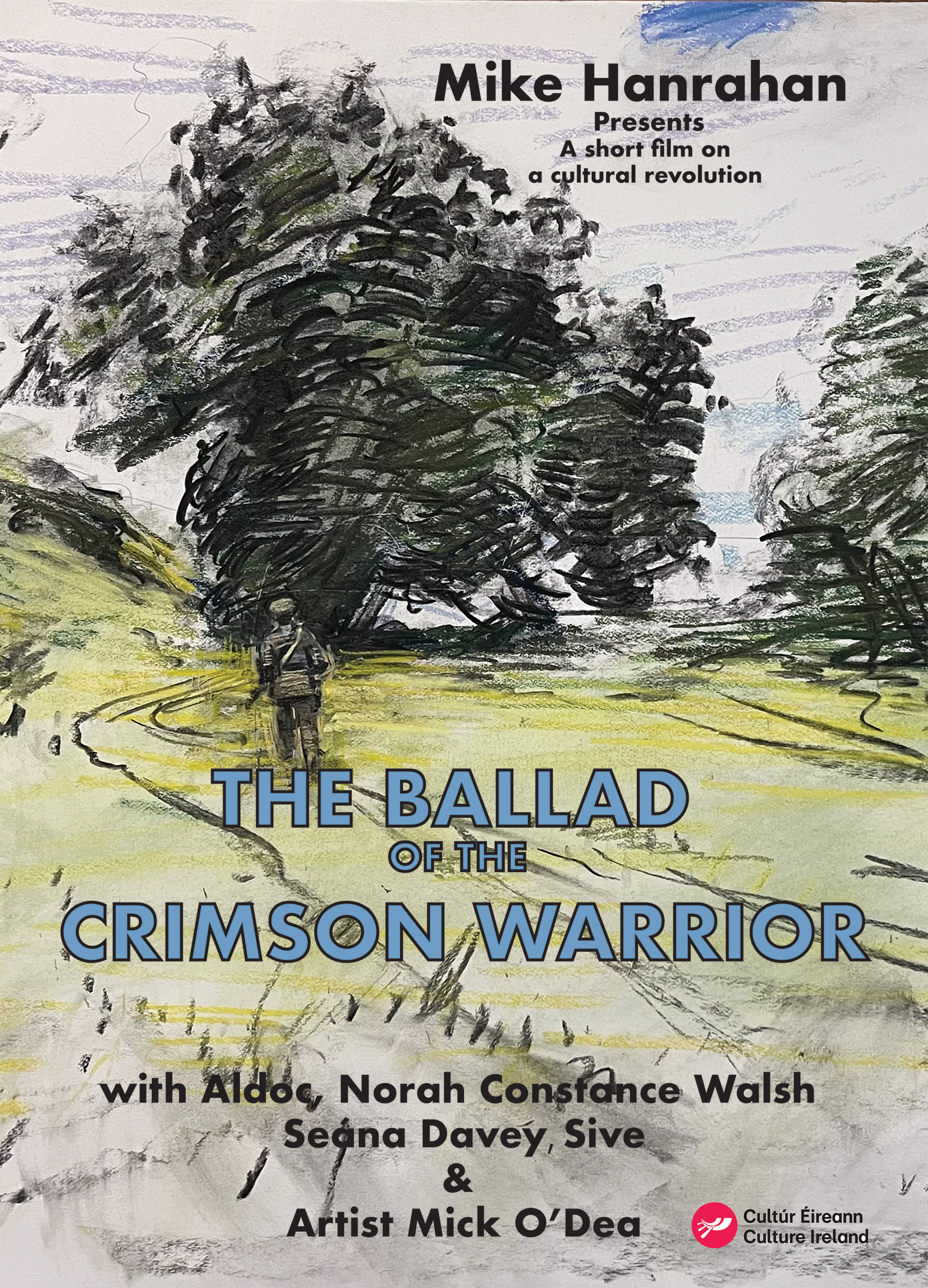 Written by Mike Hanrahan
Produced and arranged by Mike Hanrahan and Aldoc
Norah Constance Walsh Piano, string arrangements
Seana Davey Traditional and Midi Harps
Sive Vocals and Acoustic guitar
Aldoc Flutes, Whistles, Percussion, bass guitar.
Mike Hanrahan vocals, Guitars, Bodhran.
Art and graphics Mick O Dea
Music recorded mixed and mastered at Áras Chronáin Clondalkin by Aldoc
Filmed and edited at Áras Chronáin by Aldoc
Camera assistant Kevin Fahy
Studio Aras Chronain Clondalkin
Executive Producer Brian O Gabhain
Thanks to Breanndáin O Beaglaoich who set me off on my journey.
Dedicated to the artists, writers, poets, and dreamers of The Great Irish Cultural Revolution and those who wrote it down in song.
Mick O Dea Paintings from
'Black and Tan' 2010
'Trouble' 2012
'The Split' 2014 at the Kevin Kavanagh Gallery Dublin.
'The Foggy Dew' at the RHA Gallery 2016
'Armed Men' Excel Heritage Centre Tipperary 2019
'The Cut of Them' Source Arts Centre Thurles 2020
'War Room' Custom House Gallery Westport 2021

Music and songs
Necessity - Aldoc Mike Hanrahan
The Crimson Warrior - Mike Hanrahan Sive
Dublin Burning - Mike Hanrahan
Frongoch - Aldoc Mike Hanrahan
The Young Volunteer - Brian O Higgins Mike Hanrahan
Fainne Geal an Lae - Aldoc Mike Hanrahan Norah Constance Walsh Seana Davey
Oro - Aldoc Mike Hanrahan Norah Constance Walsh Seana Davey
Comrades - Eva Gore Booth Norah Constance Walsh
The Craggy hill - Mike Hanrahan
Alan Doherty has gained the reputation as one of the most identifiable and respected flute players in Irish music. He is widely recognised as a lead soloist on the Lord of the Rings soundtrack and his band Gráda. His freewheeling, "soaring flute playing" was a major part of Gráda's sound. There is a jazzy edge and improvisation element to Alan's playing that has earned him fans in other genres including Jazz and Bluegrass.
Mick O'Dea is a painter and sculptor
Past President of the Royal Hibernian Academy, a member of Aosdána, an Honorary Member of the Royal Scottish Academy, a Fellow of the Anatomical Society, Chairman of the Stamp Design Advisory Committee for A Post, and a past member of the Board of Governors and Guardians of the National Gallery of Ireland.
Sive
Sive is a songwriter and musician has carved a truly compelling style of alt-folk. her album 'The Roaring Girl' was released to critical acclaim in 2017. She followed this with live shows across Ireland, Europe and New Zealand.' In mid-2018 Sive she signed with Veta Music, recording a series of songs in Berlin, and releasing her self-titled EP the following year. Her song, 'Storybook Moon', was named Tune of the Week on RTE Culture.
Seána Davey plays the concert pedal, electric, and Irish harps. Having studied harp and piano with the Royal Irish Academy of Music holding the Associate Teaching Diploma (A.R.I.A.M) on Irish Harp and the Licentiate Teaching Diploma (L.R.I.A.M) on Concert Harp, Seána also holds a B. A (hons) in Music & Irish from National University of Ireland, Maynooth, and a master's degree of Science (M. Sc) in Music Technology from University of Limerick. Seána has released several solo composition and collaborative recordings to date.
Norah Constance Walsh is a composer, musical director, and musician. She holds a first-class honours Bachelor of Music specialising in composition from the DIT Conservatory of Music and Drama. Norah's instrumental and vocal works have been performed by Duo Sincronia, the Dublin String Quartet, the Hilltown Ensemble, RTE National Symphony Orchestra and RTE Concert Orchestra. She works with Concorde, the ConTempo and Vanbrugh string quartets and the DIT Orchestra on various orchestral and ensemble pieces.She is musical director for The Forget me nots choir, and inclusive age friendly choir who recently recorded one of Mikes songs A River Rolls on.

Project funded and supported by Culture Ireland.

Videos of each presentation are available on Youtube mikehanrahanmusic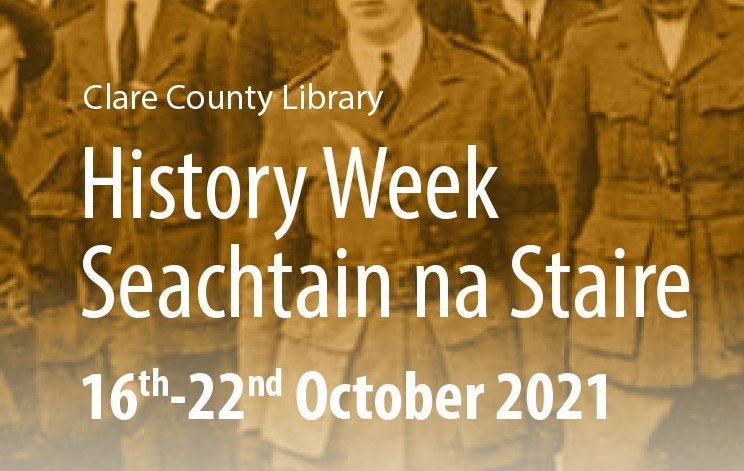 All available on my Youtube channel
War of Independence Links to History Week 2020 lectures:
Clare: Songs of Independence: The Time has Come by Mike Hanrahan
Clare: Songs of Independence: Burning' by Mike Hanrahan

2019
Mike Hanrahan's Clare: Songs of Independence with focus on 1919and the start of the War of Independence.
Mike performed in libraries in Ennis, Kilrush and Scariff as well as in Clare Museum.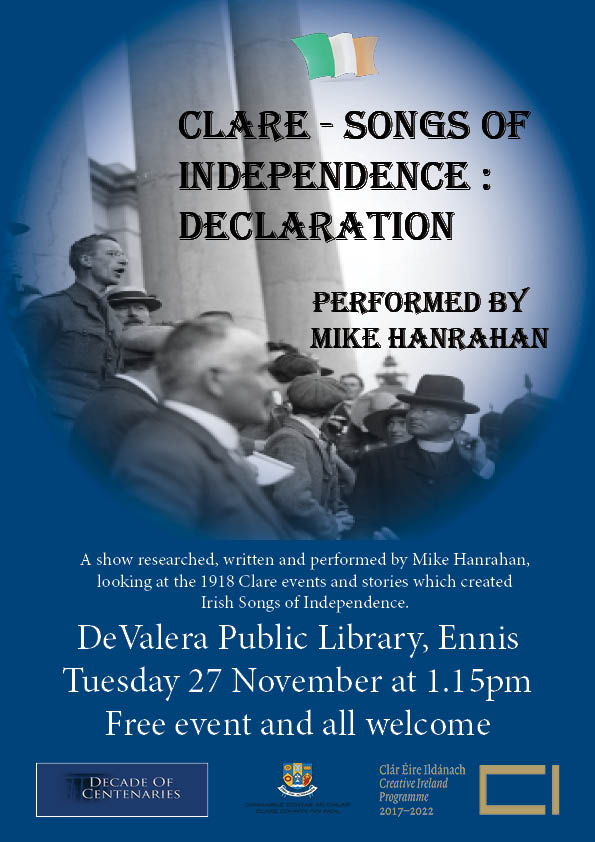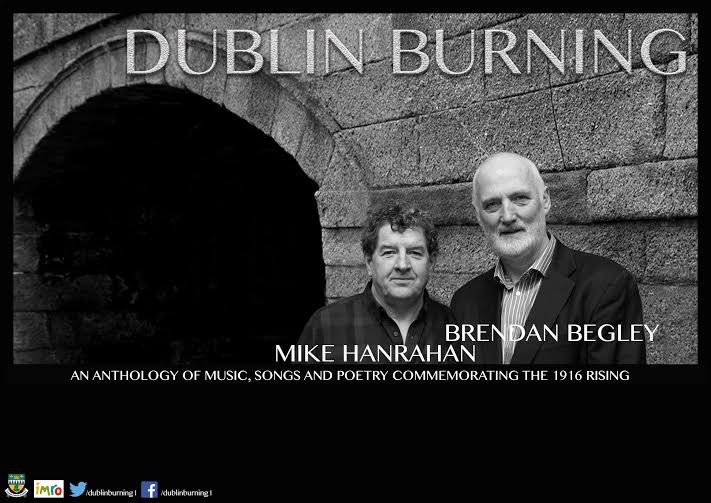 Main site mikehanrahan.com
July
Sat 2 The Dock, Carrick-on-Shannon, Co. Leitrim
Sun 24th. July Skibereen Festival

September
Fri. 23 Droichead Arts Centre, Drogheda - tbc

October
Thurs. 13 Glor, Ennis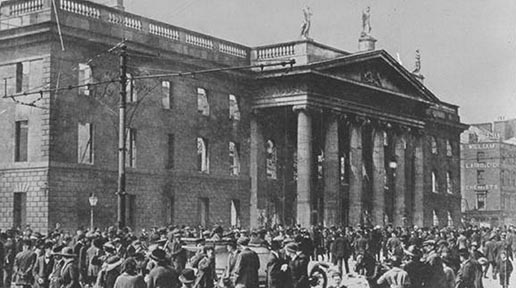 Dublin Burning
Brendan Begley and Mike Hanrahan

We have created a show which we hope tells a story of Ireland's 1916 rising through songs, music, poetry and stories of the era spanning 1890 to 1916. We find songs so familiar to generations of Irish people and shine an extra light on their significance. Songs such as Oro se de Bheatha abhaile, The Tri coloured Ribbon, A Nation once again, James Connolly and A Soldiers song which would eventually be translated into Irish and become our National Anthem.
We are not historians, we are two writers, musician and singers who happened to read a small library concerning a group of extraordinary people, men and women who lived in Ireland around a hundred years ago, many of whom were writers, musicians, singers, dancers, artists, poets, painters, sculptors and dreamers.
Their Ireland was a country in a cultural revolution celebrating the rebirth of its language, music, song, art, history and folklore against a back drop of British rule. They believed along with many other Irish men and Irish women, irrespective of religion or class, that the natural progression of a cultural revolution could only lead to a free and independent Republic of Ireland.
In our reading we discovered songs, stories and incredible characters who took part in an armed revolution that would change Ireland for ever more. In a week, Dublin burned with desire, passion, anger, sadness and pride.
It was a momentous time in our history and our hope is that the show Dublin Burning will draw people to the story, educate, entertain and start a ripple that will send them away seeking more information and understanding of a very poignant, powerful, sad, sometimes gruesome, heroic but extremely important period of our history.
"Those who win the war write the history, those who suffer write the songs" - Frank Harte

Ní stairithe, éinne againe ach beirt ceoltoirí, amhránaithe agus scribhnóirí a chuir suim sa tréimhse seo dá'r stair agus go bhfuil leabharlann bheag léighte again i dtaobh na bhfearaibh is na mná fé leith seo, alán acu scríbhnóirí, ceoltóirí, amhránaithe, rínceóirí, ealaiontóirí, filí, agus go háirithe dream go raibh fís acu. Bhí Éirinn ag an am, ina tír go raibh suim as an nua á chur sa Ghaeilge, sa cheol, amhránaiocht, ealaion, stair agus béaloideas aici ,agus ímpireacht na Breatainne brúite anuas go daingean uirti agus ina coinne. Gan creideamh san áireamh, chreideadar seo chomh maith lena alán eile acu, gurb é an toradh nádúrtha a bheadh ar an réabhlóid culturtha seo ná Éirinn soar agus neamhspleách ar Shasana.
I gCáisc na blaina 1916, bhí Baile Átha Cliath trí thine, tine fonn na saoirse, scrios, mallaitheacht, gumh, pian agus mortas cine.

Brendan Begley Accordion, Vocal
Mike Hanrahan Guitars , Vocal
NAKED I saw thee,
O beauty of beauty!
And I blinded my eyes
For fear I should flinch.

I heard thy music,
O sweetness of sweetness!
And I shut my ears
For fear I should fail.

I kissed thy lips
O sweetness of sweetness!
And I hardened my heart
For fear of my ruin.

I blinded my eyes
And my ears I shut,
I hardened my heart
And my love I quenched.

I turned my back
On the dream I had shaped,
And to this road before me
My face I turned.

I set my face
To the road here before me,
To the work that I see,
To the death that I shall meet.
Padraig Pearse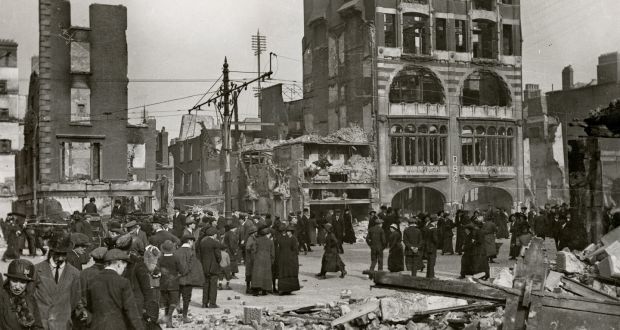 The Irish Republic is entitled to, and hereby claims, the allegiance of every Irishman and Irish woman. The Republic guarantees religious and civil liberty, equal rights and equal opportunities of all its citizens, and declares its resolve to pursue the happiness and prosperity of the whole nation and of all its parts, cherishing all the children of the nation equally, and oblivious of the differences carefully fostered by an alien government, which have divided a minority in the past.
-----------------------------------------------------------
Dublin Burning
They came from far away places
To march on a freedom trail
They sang of a new revolution
From the songs their fathers made
On a street bright with a sunshine
In a city on easter parade
They charged to reclaim a nation
from centuries in chains
Oh Oh Oh Oh Oh oh Dublin burning
Oh Oh oh Oh Oh Oh Dublin Burning
They built their barricades high
To shun the shawlies cry
Oh oh oh oh oh oh Dublin burning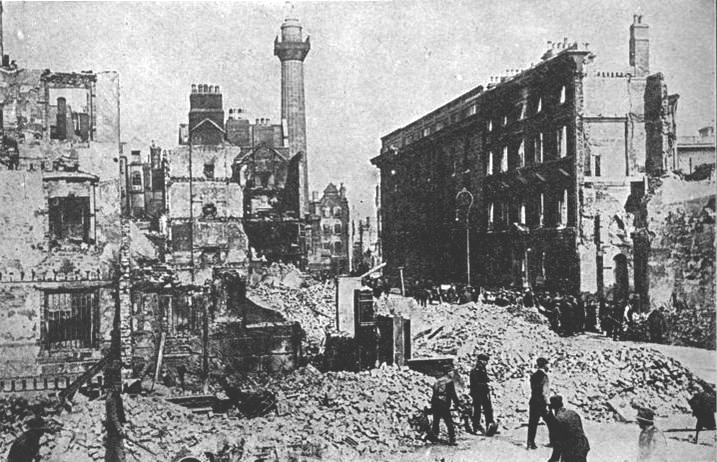 --------------------------------------------------------------------------------------------------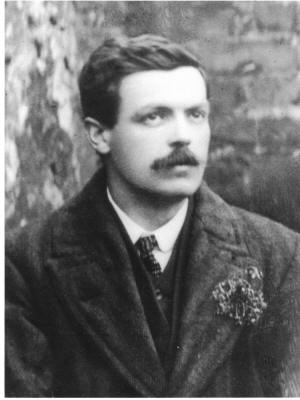 Michael O Hanrahan
An unsung hero, Michael O Hanrahan was a novelist and actively involved in many events leading up to the rising. He was executed at Kilmainham gaol. Mike Hanrahan is not related but discovered Micheal's involvement after a visit to Kilmainham many years ago. He also located a copy of Micheal's novel The Swordsman and has always been interested in the novelist and dreamer who took up arms and later lost his life so young. Mike recently found an original copy of his second novel When the Norman came, published after his death in 1917.
Aisling / Dream
As I was abroad late one evening
-I am asleep and don't waken me-
It happened that I noticed by my side a beautiful apparition
-I am asleep and don't waken me-
Her curly, ringleted, cascading surplus of tresses fell over her trembling limbs,
As she launched the arrows that pierced me in the side.
-I am sleep and don't waken me-
http://www.hotpress.com/Mike-Hanrahan/news/Mike-Hanrahan-and-Brendan-Begley-Take-Dublin-Burning-Across-Ireland/17073988.html#sthash.gvb6OzB8&st_refDomain=t.co&st_refQuery=/uG9HnuORyE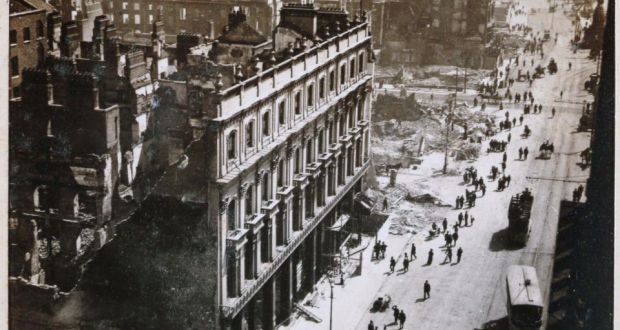 BRENDAN BEGLEY AND MIKE HANRAHAN

Brendan Begley is bursting with the wild and beautiful music of West Kerry. As a singer he is a gentle giant. On the accordion, he is a force of nature. His is music that could not exist were it not for the mountains, seas and storms of his native "Corca Dhuibhne" more commonly known as the Dingle Peninsula. Born into a famous musical family, the youngest of nine children, Brendan soaked up the music and song of West Kerry from an early age. Slides, polkas, songs and slow airs all run through his veins. He now carries on the tradition of his home place while playing with the next generation of Begley's, namely his children Bréanainn on Guitar, Cormac on concertina, Conchúbhair on accordion and Cliodhna on fiddle and sean-nós dancing. He has three acclaimed solo albums to his name, as well as numerous recordings with the groups Boys of the Lough and Beginish. With the Boys of the Lough, he has toured extensively throughout the United States, and has been featured repeatedly on the Garrison Keilor radio program "A Prairie Home Companion". He also does work with TG4 researching and presenting proggrammes and also is involved in the organising of Scoil Cheoil an Earraigh which is held in west Kerry each February. www.scoilcheoil.com
Mike Hanrahan
Mike's professional music career began in his home town Ennis, Co. Clare with acclaimed Irish vocalist and Grammy nominee Maura O Connell in a duo called Tumbleweed. He then spent 15 years as singer, songwriter and guitarist with renowned Irish music group Stocktons Wing, writing songs, recording several albums and performing across the globe.
During the early 90's he toured and recorded with Finbar Furey and also worked throughout Europe as a solo artist recording his album Someone like you for German label Wundertutte.
He joined forces with long time friend Ronnie Drew writing producing and performing with Ronnie Drew for ten years from 1997 to 2007. During that time they collaborated with Eleanor Shanley on "An Evening with Ronnie Drew and Eleanor Shanley". Mike also produced their album El amor de mi vida. He produced two albums for Ronnie and co produced Ronnie's Theatre shows "Ronnie I hardly knew you" and "An Evening with Ronnie Drew and Mike Hanrahan"
Mike was Musical director for the highly successful show The Legends Of Irish Folk which featured Finbar Furey, Liam Clancy, Paddy Reilly, Johnny Mcavoy, Jim McCann and Ronnie Drew.
Served on the board of IMRO Irish Music Rights Organisation for 12 years, 6 of those years as chairman and 3 years as Deputy Chairman.
He has recorded severel albums with Stocktons Wing, produced and performed on four albums with Ronnie Drew. Two solo albums and only recently recorded some songs with Leslie Dowdall.
Beautiful Affair written by Mike for Stocktons Wing voted top 75 all time great Irish Songs by RTE radio. Voted no.7 Best Irish Song poll for the last 25 years @ Today FM radio.

email dublinburning@gmail.com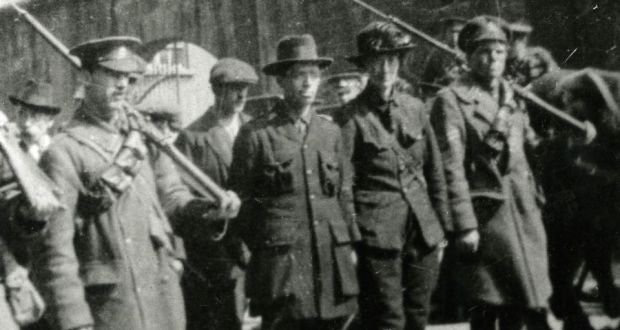 Michael Mallin and Countess Markievocz after their capture
Some interesting books to read
Handbook of the Irish revival.
When The Clock Struck 1916, No Ordinary women, Inside the GPO with Joe Good, They dieed by Pearse's side, 16 lives series of biographies, Agony at Easter,