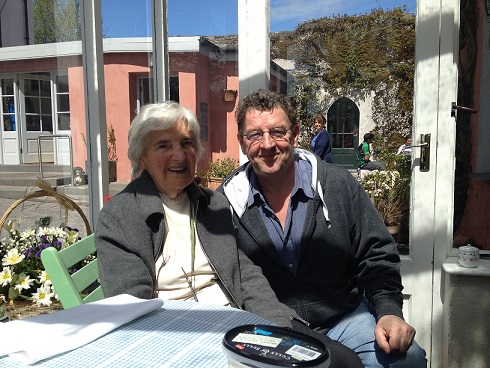 A day with the wonderful Myrtle Allen
Mike studied at Ballymaloe Cookery School in september 2007Highly commended honours
Wine Board of Ireland Intermediate Cert on Wine and spirits
HACCP Cert
Ballymaloe Wine Cert
Cottage Cheese Making course Fermoy 2010
Cooks at
Artisan Parlour Ringsend
Merrion Inn Dublin
Amy Cavistons Greystones
Pat Shortts Bar Castlemartyr Co Cork
Ballymaloe Cookery school Teacher
McCormacks Gastro Pub , Mountown, DunLaoghaire
Cavistons , Greystones Co. wicklow
Tribes, Glasthule, co Dublin
Private catering
Reviews
Paulio Tullio Indo
General
"The Artisan Parlour, just as its name suggests, aims to showcase the best of Irish artisan produce. There's passion and enthusiasm in spades, making this little eatery a big plus for Ringsend. This kind of passion and enthusiasm goes a long way to making a restaurant succeed."
Paolo's Tullio's 2015 Top Eats
Irish Indo 03/01/15
"A lovely place with wildly enthusiastic and smiley staff. Artisan parlour has brought something new and rather attractive to Ringsend."
Tom Doorley, The Daily Mail
"I was impressed at the way they worked, quietly and efficiently.the high point, the Ox Cheek, well executed, nicely flavoured and plated to please the eye."
Paolo Tullio, The Irish Independent
"Nestled in the heart of traditional village of Ringsend. Simple Irish cooking in the most modern sense. This is a community place, a place to say "let's go down to the local and get some good food there"
This is my kind of place."
Niall Harbison, Lovin Dublin
"The service from the charming young staff is excellent. The food is very, very good. An ultra hip new venue in Ringsend."
Ronan O'Reilly,The Irish Mail On Sunday
"It's helping to bring back a village feel to this area of Ringsend. A welcome tasty addition."
Rachel Collins, The Irish Times
"The Artisan Parlour and Grocery in Ringsend was opened by Martin Thomas a year ago, to a few quiet naysayers who muttered that it would 'never work'. One year on, and they have been converted into enthusiastic supporters, won round by the policy of "honest Irish grub" that Martin operates.
Voted one of Paolo Tullio's Top Nine Places To Eat in 2015, the Artisan Parlour serves things like slow roasted Ardee pork belly with lettuce, tomato and mustard mayo on good bread, and their famous Crowe's smoked ham hock and Hegarty's cheddar toastie topped with wholegrain mustard bechamel sauce. In doing so, they are bolstering a growing tradition of good food, well-sourced and well-served, around the area, extending the vibrant new dining scene beyond Grand Canal Street and down into Irishtown. With a clientele made up of locals as much as the new tech workers, they are clearly doing something very right."
Irish Independent August 2015
Some more of Mikes Dishes
Slow Roasted blade of beef with jus and celeriac Mash
Mulled Lamb
Organic Salmon, Sage, Lime, mustard and poppy seeds
Organic Salmon baked with Juniper berry, lemon and White wine
Wild Salmon baked with Lemon ,Sage and Cider
Pan Fried Fish with Roast red onion and parsley butter/ Lemon Butter/
D'Unbelievable Burger
Monk, chorizo and chick pea
Barley Risotto
Interesting links
To view the files in these press packs, and the individual downloads below, you will require Adobe Acrobat Reader. If you do not already have this program you can download it for free at

Individual Downloads
Biography & Press Reviews - Download
Press Photo (300dpi) - Download
A3 Poster - Download
Concert promoters and agents can now download a full press pack including print quality photos, biography and A3 poster.
To open the above files you will require an expander program such as WinZip or Stuffit Expander. Stuffit Expander is available as a free download from

For self-expanding versions of the above press kit.
NOTE: While every effort is made to ensure the integrity of the above downloads mikehanrahan.com cannot and does not guarantee or warrant that any of the above files will be free of infection or viruses, worms, Trojan horses or other code that manifests contaminating or destructive properties.
You are responsible for implementing sufficient procedures and checkpoints to satisfy your particular requirements for virus detection, accuracy of data input and output and for maintaining an appropriate means for the reconstruction of any lost data.
| | |
| --- | --- |
| Copyright © Mike Hanrahan 2016 | Design by |