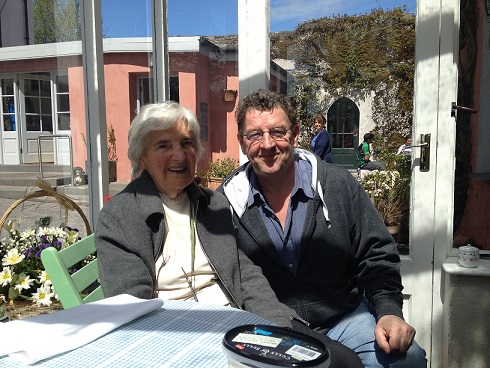 A day with the wonderful Myrtle Allen. My inspiration and absolute hero. Rest in Peace dearest Myrtle. What a person.
Mike studied at Ballymaloe Cookery School in september 2007Highly commended honours. He spent ten years as a professional cook. During that time he worked as a teacher in the cookery school, managed Pat Shortts Bar kitchen in Castlemartyr, head chef for the cery successful Artisan Parlour in Ringsend and worked various other locations. He has received excellent reviews fro many of our top critics. Currently working on as memoir of music and food.
The Irish Times said in 2017
We are a party of three including a 10 year-old who says she always orders "anything with Parmesan" on the menu. It's a pretty good rule of thumb to bring to any restaurant.
In Farmhill it gets her a plate of slippery rigatoni pasta tubes with generous chunks of free-range chicken and ribbons of leeks, with that Italian king of cheeses stirred into a creamy sauce. There's a juicy Irish scarlet heifer beef burger on a brioche bun. It's a dish that comes together with the sweet tang of caramelised onions, good cheese and excellent chips. I get the special, a pork belly salad that sounds modest but is several great things on a plate. First those slices of belly, cut slightly thicker than rashers and cooked slowly in their own fat until they're fudgy inside, crisp outside. To cut through all that luscious pig there's a spanking fresh scatter of mustardy mizuna leaves, a lip-tingling horseradish mayonnaise, blobs of excellent fennel and tomato chutney and some orange segments with the pith cut off. This truly lovely salad is finished off with pomegranate seeds that taste like they were just freed from the white flesh of a fresh fruit.
Two course evening menu for €17, for which I will definitely be returning. Given the quality of ingredients and brilliant cooking this is a properly indictable steal. City dwellers don't live cheek by jowl with farms anymore. But if we're lucky a chef will bring the best of those farms to the table and that's what we have in Farmhill.
Verdict 8/10 A beautiful little restaurant
Food Provenance: Excellent.
Head Chef at THE ARTISAN PARLOUR IN RINGSEND
At Artisan Parlour in Ringsend they said"The Artisan Parlour, just as its name suggests, aims to showcase the best of Irish artisan produce. There's passion and enthusiasm in spades, making this little eatery a big plus for Ringsend. This kind of passion and enthusiasm goes a long way to making a restaurant succeed."
Paolo's Tullio's 2015 Top Eats
Irish Indo 03/01/15
"A lovely place with wildly enthusiastic and smiley staff. Artisan parlour has brought something new and rather attractive to Ringsend."
Tom Doorley, The Daily Mail
"I was impressed at the way they worked, quietly and efficiently.the high point, the Ox Cheek, well executed, nicely flavoured and plated to please the eye."
Paolo Tullio, The Irish Independent
"Nestled in the heart of traditional village of Ringsend. Simple Irish cooking in the most modern sense. This is a community place, a place to say "let's go down to the local and get some good food there"
This is my kind of place."
Niall Harbison, Lovin Dublin
"The service from the charming young staff is excellent. The food is very, very good. An ultra hip new venue in Ringsend."
Ronan O'Reilly,The Irish Mail On Sunday
"It's helping to bring back a village feel to this area of Ringsend. A welcome tasty addition."
Rachel Collins, The Irish Times
"The Artisan Parlour and Grocery in Ringsend was opened by Martin Thomas a year ago, to a few quiet naysayers who muttered that it would 'never work'. One year on, and they have been converted into enthusiastic supporters, won round by the policy of "honest Irish grub" that Martin operates.
Voted one of Paolo Tullio's Top Nine Places To Eat in 2015, the Artisan Parlour serves things like slow roasted Ardee pork belly with lettuce, tomato and mustard mayo on good bread, and their famous Crowe's smoked ham hock and Hegarty's cheddar toastie topped with wholegrain mustard bechamel sauce. In doing so, they are bolstering a growing tradition of good food, well-sourced and well-served, around the area, extending the vibrant new dining scene beyond Grand Canal Street and down into Irishtown. With a clientele made up of locals as much as the new tech workers, they are clearly doing something very right."
Irish Independent August 2015
Still drooling out of the side of my mouth just thinking of the Mulled Lamb I had for lunch with a parsnip mash potato, perfect portion at 10 euro odd.
I tasted my partners salads, baked potato and chowder and was thinking ' I will be having that the next time '.From what I saw being served to other guests around me I liked everything, superb, clean and welcoming.And the decor..my kind of decor, loved it, simple good artisan tasteful and interesting. Well done to all of you, and great to see a local establishment filled with everything to feed our needs.----------------
Visited for a second time today, and I ordered the PBLT. A unique take to the original, the added pork belly and Dijon mustard sauce made the sandwich both savory and sweet. The flavors, while numerous, were not competing with each other. The side coleslaw balanced with the meal well, and I would recommend this order.-----------
The Great Paulio Thulio said ----It's the movement that brought the vast array of wonderful cheeses that we now have, and bit by bit it's bringing us smoked fish and meats, outdoor-raised farm animals and even buffalo mozzarella.
There's a symbiosis that happens between artisan producers and chefs. Typically, the artisan producer approaches the chef and says, "Look what I produce". The chef thinks "I could use that" and before long, a link is made and the artisan food is on the menu. And in this simple exchange, many things have happened for the better - there's a new artisan product, the restaurant has another food that comes from nearby, perhaps the area begins to be known for that product and lastly the diner gets to eat real, authentic, unadulterated food.
So when I heard there was a new restaurant whose mission was to showcase artisan products, my interest was piqued. And when I discovered that it was in Ringsend, which has been something of a desert gastronomically for the past few decades, I realised I needed to visit. Even better, it was the perfect opportunity to go reviewing with Ringsend resident Sophie Gorman, who is a very knowledgeable dining companion.
Ringsend's newest eaterie is easily found in the lane behind the library, right in the middle of Ringsend. If you're lucky, you can even get parking outside Artisan Parlour and Grocery (for such is its name). Inside it has that 'artisan' look of recycled woods, produce on display, and simple tables and chairs set up for dinner. If I had a reservation about the interior it was that the tables were small and were placed very close together. As it happened, on the night we were able to move our table and get a bit of room, as the space behind us didn't get used, but had the room been full to capacity, I suspect we would have been uncomfortably squeezed.
Read more: Eating out: Lucinda O'Sullivan at Balfes at the Westbury Hotel
The menu comes to you on a clipboard and is a single page, offering three starters, four mains and three desserts. The prices are very reasonable, the main courses run from €11 to €16, and this holds true of the wine list as well. We chose a Pinot Grigio from the Alto Adige, which came at €27. It did need chilling, so we had to wait a while for an ice bucket to do its job.
The choices for starters were crab salad, a beetroot salad with Fivemile Town goats cheese, or a celeriac and mushroom soup. Sophie chose the crab salad and I chose the soup. The main courses were braised ox cheeks, pan-fried plaice, an open seafood pie and a vegetarian ragù with chickpeas and red lentils. Sophie chose the fish pie and I couldn't resist the ox cheeks.
I found myself looking towards the back of The Parlour, where the kitchen was. It was open-plan, so we could see the chefs at work. I was impressed at the way they worked, quietly and efficiently in what was a very small kitchen. I wondered just what the food would be like coming from so small a space, but that question was answered soon enough with very nicely presented dishes for both of us. The crab salad came as a tian with a citrus dressing and it was served with rocket. Simple, but tasty.
The soup was served in a marmite crockery dish and was good and thick, a warming and nourishing winter soup that I thoroughly enjoyed. We were also given some very good sourdough bread slices to go with our starters. I thought our main courses were very well done. Sophie had an envelope-sized packet of puff pastry inside which was a good mix of fish - hake, salmon, prawns and naturally smoked haddock.
Read more: Lucinda O'Sullivan's top eateries for Dublin Christmas shoppers
Thankfully, naturally smoked, undyed fish is becoming more readily available. Quite why there used to be this insistence on dying the smoked fish a virulent orange I've yet to find out. The fish were poached in a cream sauce flavoured with dill and the whole dish worked very well.
The ox cheeks were served on a bed of mash and came with deep-fried kale, roast carrots and parsnips - a very seasonal mix of vegetables. The cheeks had been cooked long and slow, making them perfectly tender and very good to eat. Two very good dishes.
We thought for a while about desserts, since our appetites had been satiated, but a mini Christmas pudding and bread and butter pudding eventually proved irresistible. Sophie had the mini pud and it was good, drizzled with a caramel sauce and topped with a scoop of Featherbed Farm ice cream. The bread and butter pudding was less successful, having the look and texture of something that had been in an oven for far too long. I was offered another one, but by then my appetite was gone and instead I took an espresso.
The Artisan Parlour and Grocery is exactly the sort of place that I like to highlight. It's run by people who are passionate about their food and are careful with their sourcing. I suspect it will act as magnet for other businesses as it opens up new furrows. It's definitely a plus for Ringsend Village and it's great value. Three courses each and a bottle of wine came to €79.
Read more: AA Gill was a bit harsh, not everyone agrees with him - Darina
On a budget
During the day you can enjoy salads and sandwiches, made with the same attention to detail. The coffee is also good, not just the grounds, but actually well made.
On a blowout
Recently they've started to open for dinner Thursday through to Saturday. It's as close to a blowout as you're going to get, spending a maximum of €16 for a main course.
The high point
The ox cheeks did it for me. Well-executed, nicely flavoured and plated up to please the eye.
The low point
The dry and overcooked bread and butter pudding.
Ratings
Food: 8/10
Ambience: 7/10
Value for money: 9/10 value
Overall: 24/30
Wine Board of Ireland Intermediate Cert on Wine and spirits
HACCP Cert
Ballymaloe Wine Cert
Cottage Cheese Making course Fermoy 2010
Cooks at
Artisan Parlour Ringsend
Merrion Inn Dublin
Amy Cavistons Greystones
Pat Shortts Bar Castlemartyr Co Cork
Ballymaloe Cookery school Teacher
McCormacks Gastro Pub , Mountown, DunLaoghaire
Cavistons , Greystones Co. wicklow
Tribes, Glasthule, co Dublin
Private catering
Some more of Mikes Dishes
Slow Roasted blade of beef with jus and celeriac Mash
Mulled Lamb
Organic Salmon, Sage, Lime, mustard and poppy seeds
Organic Salmon baked with Juniper berry, lemon and White wine
Wild Salmon baked with Lemon ,Sage and Cider
Pan Fried Fish with Roast red onion and parsley butter/ Lemon Butter/
D'Unbelievable Burger
Monk, chorizo and chick pea
Barley Risotto
Interesting links
To view the files in these press packs, and the individual downloads below, you will require Adobe Acrobat Reader. If you do not already have this program you can download it for free at

Individual Downloads
Biography & Press Reviews - Download
Press Photo (300dpi) - Download
A3 Poster - Download
Concert promoters and agents can now download a full press pack including print quality photos, biography and A3 poster.
To open the above files you will require an expander program such as WinZip or Stuffit Expander. Stuffit Expander is available as a free download from

For self-expanding versions of the above press kit.
NOTE: While every effort is made to ensure the integrity of the above downloads mikehanrahan.com cannot and does not guarantee or warrant that any of the above files will be free of infection or viruses, worms, Trojan horses or other code that manifests contaminating or destructive properties.
You are responsible for implementing sufficient procedures and checkpoints to satisfy your particular requirements for virus detection, accuracy of data input and output and for maintaining an appropriate means for the reconstruction of any lost data.
| | |
| --- | --- |
| Copyright © Mike Hanrahan 2021 | Design by |