2017 news
Gigs for 2017
Gigs with Leslie , Stocktons Wing and Roy Buckley
Mike sings his songs at Sunflower club Belfast April 6th.
Stocktons Wing live gigs to celebrate 40 years of Wing music.
Apr 20th Draoicht theatre Blanchardstown
June 16th Glengarrif Festival
July 8th. Mermaid Theatre Bray
July 20th Munroes Galway
Aug 6th. Ballyshannon folk festival
Aug 18th. West County Ennis Fleadh
Aug 26th Ballykeefe Amphitheatre Kilkenny
Sept 6th Clifden Arts
With Roy Buckley
May1st. Mallow/ Cork
June 6th Blackpool Cork
Mike and Leslie Page
June 15th.Ballina Arts Centre
July 22nd Trim Castle
Aug 19th. Kilkee theatre
Leslie and Mike release You are my sister followed by a series of gigs
February
Fri 17 Gibbon's Pillar House, 8 Society St, Ballinasloe, Co.Galway
https://www.facebook.com/thepillarhouse
http://thepillarhouse.ie/music
Doors 8pm / on stage @ 9pm
Tickets €20 available from Pillar House 090 96 43939 or contact 087 9046140

Sat 18 Presentation Centre Enniscorthy, Co. Wexford
http://www.presentationcentre.ie/
Doors 8pm / Start @ 8.30pm
For bookings and information contact Emily Whelan
Bookings/info via Wexford Arts Centre:
053 912 3764/ boxoffice@wexfordartscentre.ie
Tickets €18/€16 conc

Thurs 23 Number Twenty Two, South Anne St, Dublin 2
http://www.numbertwentytwo.ie/ceol-nights/
Doors 7pm | Dinner 7.15 onwards | Stage time 9.15
Tickets €17.50 + bf / dinner and show €55
https://www.eventbrite.ie/e/mike-hanrahan-and-leslie-dowdall-live-number- twenty-two-tickets-31156948271

Fri 24 Sirius Arts Centre, The Old Yacht Club, Cobh, Co. Cork
www.siriusartscentre.ie
doors 8.15pm /on stage 8.30pm
Bookings/info: 021 4813790 / Info@siriusartscentre.ie
http://www.siriusartscentre.ie/music
http://www.siriusartscentre.ie/music/leslie-dowdall-and-mike-hanrahan
Tickets €18
July 22nd Trim castle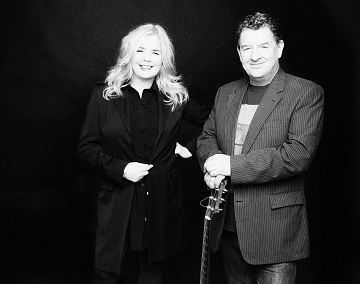 STOCKTONS WING CELEBRATE 40 YEARS
Sat 19h. Aug Ennis Fleadh
Sat 26th Aug Bakeefe Kilkenny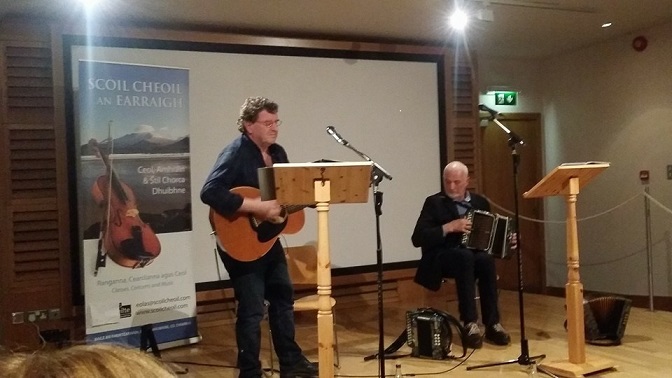 March
Tour starts at Easter. Great excitement and so looking forward to presenting a show both Brendan and I have spent over a year and a half researching, reading, writing and playing some tunes. Its a sheer passion now as I've got to know the history and some of the characters involved. Many I never knew of to my eternal shame, names like Margaret Skinnider, Ned Daly, Michael Mallin, Elizabeth O' Farrell, Eily Hanrahan, Con Colbert, Sean Connolly and I could go on.The joy of the show for me as a writer and performer is a chance to shine a light on these incredibly talented people, visionaries, yes dreamers, arists, writers and nationalists to the core with a love of all things Irish, language, music and culture. Their life was dedicated to de anglezisation of Ireland after centuries of a foreign rule.Quite incredible story.Hope you get to see one of the shows. Mike
Feb
Tours planned with Brendan Begley, Leslie Dowdall, Stocktons Wing, Eleanor Shanley, Roy Buckley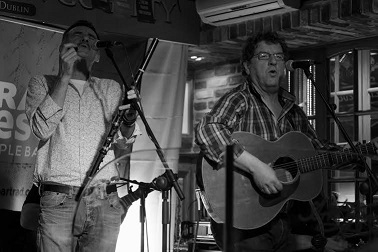 Paul and Mike at TEMPLE BAR TRADFEST with Stocktons Wing 2016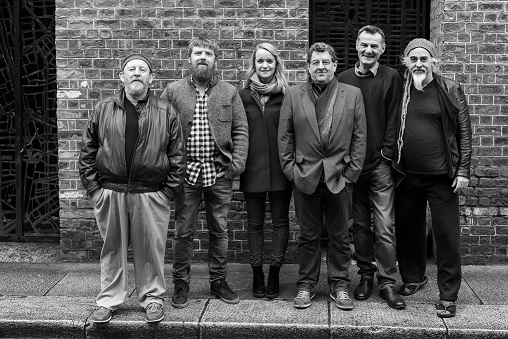 Stocktons Wing 2016 with Tommy Hayes, Karol Lynch, Tara Breen, Mike, Paul Roche and Steve Cooney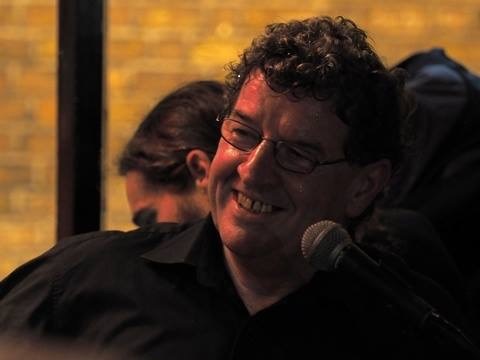 Dublin Burning Show up and running

DUBLIN BURNING
We are not historians, we are two writers, musician and singers who
happened to read a small library concerning a group of extraordinary
men and women who lived in Ireland around a hundred years ago, many
of whom were writers, musicians, singers, dancers, artists, poets,
painters, sculptors , feminists, thinkers and dreamers
Their Ireland was an Ireland in cultural revolution celebrating the
rebirth of its language, music, song, art , history and folklore
against a back drop of British rule. They believed along with many
other Irish people ,irrespective of religion or class. that the
natural progression of this cultural revolution could only lead to a
free and independent Ireland.
Easter Week 1916 Dublin burned with desire, destruction,death, anger,
rage, passion, pain ,pride and hope..
Our story begins in November 1892 At the Irish National Literary
society where Douglas Hyde presented a paper.The Necessity for
De-Anglicising Ireland. We perform a dual language version of Padraic
Pearse's prophetic poem from 1912 Naked I saw thee / Fornocht Do
Chonac Thu.
The show includes many songs from the era and beyond. Songs like The
Foggy dew, A nation once again,Padraic pearse's Oro se de bheatha
abhaile,The dying rebel, The Soldiers song and many more were often
sung by the volunteers and Citizen army before during and after the
Rising.Other songs include The Young Volunteer by Brian Higgins aka
Brian na Banban a prolific songwriter of his generation who along with
fellow songwriter Peader Kearney were active during the Easter week
rising. We include excerps from The O Rahilly, Tomas McDonagh,
,Francis Ledwidge and also some new compositions, most notably, The
narrative song Dublin Burning and a polka musically depicting the
retreat from the GPO to Moore street and the chaos involved followed
by Liam Weldons haunting ballad James Connolly.
Our story thus far concludes at Kilmainham with Peader Kearneys The
tri coloured ribbon.
Mike Hanrahan Brendan Begley
Tours planned with Brendan Begley, Leslie Dowdall, Stocktons Wing, Eleanor Shanley, Roy Buckley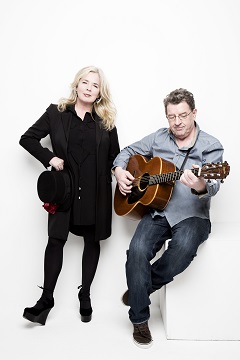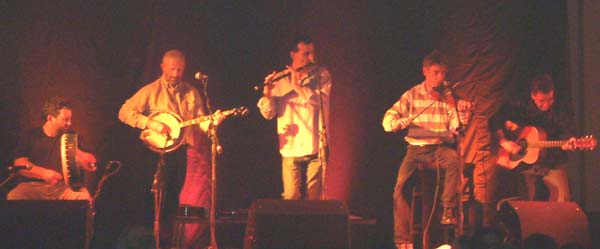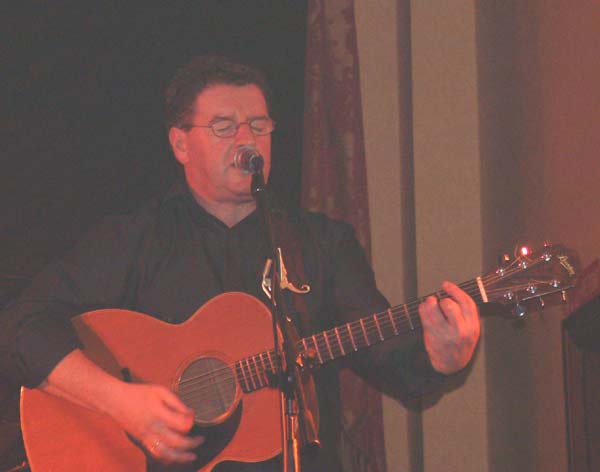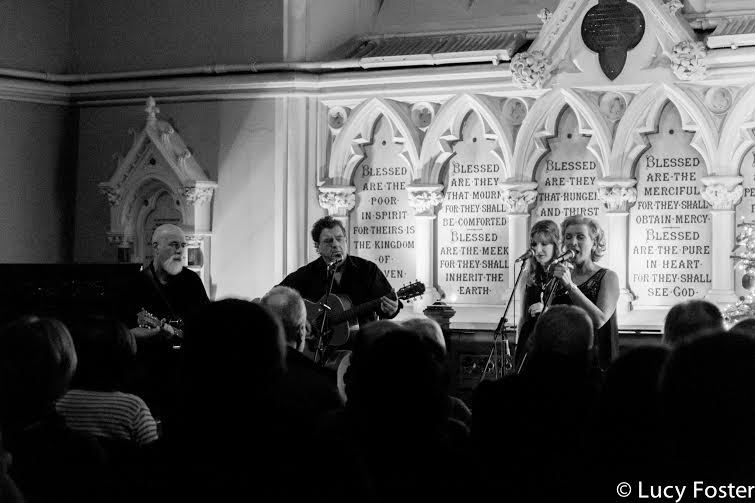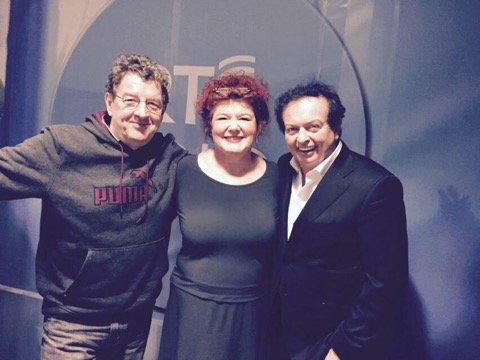 with Maura and Marty Morrissey
---------------------------------------------------------------------------------------------------------------------------------------------------------------
Some reviews and press clips
NEWS ON MIKE's New CAREER Irish Times 10th Feb
Finding Harmony in Food
NEW LIFE: Mike Hanrahan has gone from sharing gigs with Michael Jackson and heading a music-rights organisation to working in the food industry, writes MICHELLE McDONAGH .
AFTER A successful musical career spanning 30 years, Mike Hanrahan found himself facing his 50th birthday with no idea about what he wanted to do with the rest of his life.
He had reached a crossroads in his career and life when his SSIA money dropped into his lap, opening up a whole new opportunity for him.
The singer, guitarist and song-writer had always loved cooking and entertaining people and was particularly taken with Darina Allen's approach to food at the Ballymaloe Cookery School in Co Cork.
With his SSIA windfall, Hanrahan did a three-month cookery course at Ballymaloe and while he still does not know where his new life is going to take him, he is enjoying the journey and hopes to eventually marry his two passions in life: music and food.
Born into a musical family in Ennis, Co Clare, Hanrahan was surrounded by music and encouraged to take up instruments at a young age.
"I never had any doubt in my mind where I was going. Like everybody else in Ennis in those days, I got a job in Shannon Airport. My first job was as a kitchen porter but I left that to go on the road as a musician."
In 1977, Hanrahan began his professional career with Maura O'Connell in a duo called Tumbleweed touring the Irish folk circuit.
His brother Kieran had founded the band Stockton's Wing and, in 1980, Hanrahan joined the band and over the next 15 years he toured extensively throughout Europe and the UK and wrote many of their songs.
He describes his years with Stockton's Wing as a "seriously amazing experience" with some unforgettable highlights. In the summer of 1988, the band shared the stage with Michael Jackson in Cork for two nights as part of Jacko's world tour and the following year Sammy Davis Junior invited the band to perform at his Lansdowne Road shows in Dublin.
"I think I've lived a few lives in one, even in that period alone. Stockton's Wing was just an amazing trip: 15 years of great memories, great music, great fun. We met some amazing people and were lucky to hook up with some great people who managed us along the way.
"We constantly annoyed elements of the industry with the way we took music and experimented with it in different ways, but we were blessed to have an audience who loved that."
In 1994, Hanrahan left Stockton's Wing to pursue a solo career and tour with Finbar Furey in the UK. It was in 1997 that he began working with Ronnie Drew and started another very enjoyable chapter in his musical career which lasted until his great friend Ronnie tragically became too ill to continue working in 2007.
Hanrahan was elected deputy chairman of IMRO (Irish Rights Music Organisation) in 1998 and chairman of the organisation in 2000, a position he held for six years.
"I was 500 per cent dedicated to trying to protect the rights of Irish writers because my own rights were not protected in my career.
"Rather than just sitting in a pub whinging and moaning about it, I decided to get stuck into IMRO and try to ensure it did not happen to others," he explains.
While Hanrahan hopes he achieved a lot during his years with IMRO, he felt he was left with no choice but to resign from his position as chairman in 2006 due to a change in the organisation's regime.
"When I left IMRO it was a very dark time for me, the lowest point of my life ever in the music industry. It took me a long time to get back up and see where I wanted to go.
"IMRO left a massive gaping hole in my life because I had given so much time to it. Ronnie had been diagnosed with cancer and his wife, Deirdre, said that it was likely he would not work again."
It was at this point, facing into his 50th year, that Hanrahan decided to retrain as a chef. He had been to Ballymaloe House a number of times with Ronnie and Eleanor Shanley – who he also worked with – and loved the whole atmosphere there.
"I had always cooked and was a very keen amateur. I loved entertaining people and creating food but needed to learn more about it. I had no idea where it would take me, I went with the view of going to learn and see how I got on.
"I learnt a lot about organic food and produce and how the industry works here. I still don't know where it's going to take me but I have a few ideas up my sleeve."
After leaving Ballymaloe, Mike got a job running a kitchen and he is currently working as a chef at Mr Cormack's bar/restaurant in Mounttown, Dun Laoghaire where he says he has learnt more over the last year than any college could have taught him in five years.
"It's been a massive change. It took me a good six months to get even a small bit used to working shifts and not having to make executive decisions.
"At IMRO I was at the top, the job was high powered and the stress was huge. Suddenly I was in a kitchen, just one of the lads. The greatest shock of all has been living on a chef's wage."
But Mike welcomes the change because his life is much calmer these days and his outlook is more positive which also benefits the woman he describes as "my wife and my life", Donna.
He still plays a bit of music, including a recent one-off Stockton's Wing reunion gig in Ennis but has made the decision to get as far away from the music industry as possible as he found he was becoming any angry person. While he misses the gigs, the touring and the communication with people that he experienced as a musician, Mike hopes that in the future, when he has more time, he will be able to combine music and food in a career.
In terms of the future, he has no interest in running his own restaurant but he does hope to work in the organic food area in Ireland. He is particularly interested in developing food documentaries and is currently working on one idea with Production 63 in Ennis.
"There are so many great things happening with food in Ireland. It's almost like a revolution. As a nation we are beginning to eat better food and to respect food more."
This article appears in the print edition of the Irish Times
Stockton's Wing Reunion Gig was a fantastic night.
West County, Ennis
Saturday January 31st 2008
Four stars ****
The enormous drawing power of 70's/80's traditional group Stockton's Wing was confirmed on Saturday night last, with 1,500 devotees showing up in the band's home-town for a once-off, rollicking romp through their eclectic back catalogue. Minus the talents of the Wing's regular banjo/mandolin player Kieran Hanrahan for the night, his absence was more than made up for by a sterling display from stand-in Enda Scahill. The Galway man's ornate mandolin began the show with 'Drops of Brandy', as Maurice Lennon's compelling fiddle soared over and gradually cajoled the other group members into the icebreaker - laying down a definite marker for a rambunctious and utterly compelling performance.
'Miss McLeod's Reel' affords the basic footing for Mike Hanrahan's 'Beneath The Shade', with Paul Roche's lilting whistle lifting the song
to lofty and lark-like heights. The introduction of guests, Tony Molloy (bass), Steve Flaherty (electric guitar) and Danny Byrt (drums), generated
an upsurge in intensity, particularly on 'Walk Away', with Flaherty's searing solo adding an extra dimension to the popular song. Guest singer, Eleanor Shanley rendered a rousing version of Stephen Foster's 'Hard Times', while an innovative bodhrán solo by the peerless Tommy Hayes added to the diverse and entertaining nature of the overall presentation.
The low-key, banjo/jaw's harp introduction from Scahill/Hayes to 'The Maid Behind The Bar', signalled a calm-before-the-storm approach, culminating in a manic and uninhibited version of the old reel. With a fiddle/flute/banjo axis, underpinned by Byrt's Ceili band style drumming,
an explosive Chicago Reel extracted gasps and howls of approval from the large and frivolous audience. Though hindered somewhat by an obdurate room, sound-wise and pockets of boisterous revellers in the throng, Stockton's Wing magnificently soared above perceived adversity to produce a memorable and satisfying recital that hopefully will re-emerge again, in the not too distant future. Gerry Quinn
December 08
Ronnie The Biography Out now on Penguin.
November
STOCKTONS WING ANNOUNCE REUNION GIG AT WEST COUNTY HOTEL ENNIS JAN 31ST 2009
Ronnie Drew's 'Last Session' turns to jazz
Late folk legend Ronnie Drew looked to jazz to fulfill his final musical ambition on the last album he recorded before his death.
The former Dubliner's final collection of songs, entitled The Last Session: A Fond Farewell , draws on traditional jazz influences - a genre Drew believed had eluded him during his long career.
His son, Phelim Drew, said the album, which features duets with some of the country's best-known musicians, gave his father a purpose during the months before his death last August.
"When Dad recorded this album he still had hopes of recovery so he didn't regard it as his last," he said. "At the time he was very sick so the album gave him a reason to get up and out and work.
"He felt that jazz was a style he hadn't really investigated so he got to get rid of that regret."
He was joined in the studio by a host of musicians including Shane McGowan, Emmanuel Lawler, Mary Coughlan and Mike Hanrahan, whom he also counted as friends. The collection includes old favourites such as Molly Malone , along with McGowan's A Rainy Night In Soho and The Auld Triangle and We had it all written by Mike Hanrahan.
The album, which goes on release on Friday, was recorded from last November to May this year - just three months before Drew lost his battle with cancer. A donation from each CD sold will be made to a cancer charity chosen by the family.
Plans are also in the pipeline to release a book on Drew's life that the singer had been working on during the months before his death.
Oct
Stocktons Wing announe a reunion gig for the end of January 2009. Details to follow.
MARCH 08
MIKE HANRAHAN GIG AT THE PURTY LOFT DUN LAOGHAIRE ON SUN 9th. March
SONGWRITERS NIGHT AT THE PURTY LOFT DUBN LAOGHAIRE
------------------------------------------------------------------------------------------------------------------------------
Hi and happy new year. Been very quiet lately as I took time out to learn the art of cooking at Ballymaloe cookery school in East Cork in Ireland. Had a wonderful time and met some great musicians and songwriters. Will be doing some gigs this year with Leslie dowdall. Not sure if Ronnie is due any gigs soon but he is very busy recording and getting healthier which is great news for the new year. hope you are all well and apologies for the lack of web site activity. Will do better. Regards
Mike
Not much to report. some legends gigs on the way. I am taking a well earned breather from the music biz for a few months. I will play some of the Legends gig but generally I am out of action until Christmas. will keep you informed on any news of gigs etc. Ronnie sends his best wishes. He is doing great and working on his auto biography and a documentary. Leslie is on RTE radio 1 on Friday nights at 9PM. tune in and stay tuned here or on myspace. All the best
Mike
July
Stocktons Wing may soon announce a return gig in Ennis in December. Stay tuned. More Legends gigs to be posted here next week. Gigs will be in Cork , Limerick, Castlebar and Dublin in Sept/ November.
No more live shows for Leslie and Mike for this month. Should have something to report for August.
Ronnie Drew expected to announce a few shows in the autumn.
Have a good month of July. mike Hanrahan.com is on holidays.
June 07
On Sat 23rd June Mike is in Ennis hosting a show for all the runners taking part in a 10K run for Clare Haven and Ennis Youth Centre. With him will be Steve Flaherty, Edel Fox and Siobhan Peoples.
On Sunday 24th Mike performs at a Charity show in Dublin for families going to Special olympics to support their athletes. Paul Ashford, Leslie Dowdall, Rebecca Smith, Pat Fitz, Ritchie Buckley, Roger Thornton, George Hook and many more will be appearing on stage. Not to be missed. Gig organised by some of the locals in the pub. Its a real charity event.
No gigs planned for July but will keep you posted.
MAY 2007
Ronnie returns to stage. May 10th. NCH Dublin/ June 8th. NCH Dublin.
Leslie and Mike to sign with SonikDub and Learning to Let go will be officially launched in June. Currently on tour around Ireland. All dates posted on myspace. Click below to listen to the song and check the live dates.
Tommy Hayes, Kieran Hanrahan and Mike announce a series of Irish gigs for Autumn. Details will be posted.
New Song from Leslie Dowdall and Mike Hanrahan now available on myspace plus all tour dates.
Hi Welcome to a new year. Leslie and I will have new music by the end of Jan. Check out our myspace pages for a sneak preview. Will keep you posted. Tour dates are posted on My space. We will be on the road in March and April. Thanks to all who came out to the shows in the Autumn. Been busy with other projects over the past two months but now we have a new year and plenty to talk about. Please stay tuned.
Ronnie is recovering really well and sends his regards. Watch out for shows in May.
Kieran Hanrahan, Tommy Hayes and i will tour in the Autumn as a three piece. should be a great gig.
Nov/ December
no gigs until January. ronnie in recovery and doing fantastic. We should be back for the Willie Nelson Shows in the UK in January . He sends you all good wishes.
-----------------------
Leslie and I finish the recording and hopefully release a few tracks early new year..
Thanks to all who came to the shows around Ireland. we had such a great tour.
Hope you all have a good Christmas season.
---------------
Rumour has it that Stocktons Wing might form part of the Legends of irish Folk next year. That would be really something to look forward to.
OCTOBER 06
HAPPY HOLLOWEEN!!!!!!!!!!!!!
new Myspace address up and running.
Ronnie has been under the weather but is recovering really well and will be back on the road. Thanks for all the good wishes.
Tour with Leslie well on the way and having a great time. Just started recording a couple of tracks with Shay Fitzgerald. Check out the tour page for further detail.
September 06
Check out the Tour Page for dates with Leslie and there are also some dates with Ronnie
Aug 25th
Currently on tour with the Legends of Irish folk featuring Ronnie Drew, finbar Furey, Johnny Mcavoy and Liam Clancy. Gigs at the Cork Opera House are sold out and we move to The Gaiety Theatre in Dublin next week Aug 28th.
Leslie Dowdall and I are putting a tour schedule together at the moment for october. Venues confirmed in Weford, Moate, Carrig on Shannon, Boyle, Ennis, Lismore, Dublin. A full list will be posted this week.
Leslie Dowdall and Mike Hanrahan to tour Ireland September/ nOctober. Stay tuned.
June/ July/ August Ronnie Drew and Eleanor Shanley with Mike Hanrahan and Steve Flaherty on Irish Tour to promote new Cd El Amor Da mi Vida
The re mastered Stocktons Wing Live CD from 1985 has just been released onTara Records and is now at all Golden Discs shops or you can order it here on site within the next week. There are three bonus studio tracks also included.
The album was without doubt the most critically acclaimed of all Stockton's Wing recordings.
NEW Ronnie and Eleanor Page Click Here
EL AMOR DE MI VIDA cd available in the shops
So many gigs coming thru for the year. Ronnie and Eleanor take to the road in May, The Legends of Irish Folk in August and there is great interest in the Leslie Dowdall collaboration. Check out the tour page for all info on gigs. Hope to see you at one of the shows. Meanwhile check out the new Ronnie Drew / Eleanor Shanley CD.
March 06
HAPPY ST PADDYS DAY TO EVERYONE
Ronnie gets the gig as Grand Marshall to Dublins Parade.
Ronnie and Eleanor release radio single. A Warren Zevon song produced by Mike.
CD due for April 7th Release.
Mike and Leslie finally get on the road with a couple of gigs in April.
The Legends Of Irish Folk announce a series of gigs in August in Limerick, Cork and Dublin.
----------------------------------------------------------------------------------------------------------------------------------------------------------------------
February 06
Mike and Ronnie live dates in Denmark early March
Ronnie and Eleanor CD produced by Mike Hanrahan due for April 7th release. Live shows will follow.
Mike and Leslie Dowdall close to tour dates. One gig to watch for at The Spirit Store in Dundalk. They will be performing the new material at this show. More dates will certainly follow.
January 2006
Happy New Year and lets hope its a good one. All good news to get the year started. Just finished recording the CD with Ronnie and Eleanor at Sharon Shannon's Cottage Studio in Galway. What a great place to be over the Christmas. Some real surprises in store on this album. Ronnie and Eleanor have chosen some great songs. We have cut songs from The Eels, Warren Zevon, Paul Brady, Nick Cave and a couple of trad Irish songs with a twist of Trance. No kidding.... This is a milestone for Ronnie and Eleanor. The recording has been one of the highlights of mu music life. Our band of great musicians included Robbie Casserly on drums, James Delaney on Keys, Paul Moore on Bass, Keith Donald on Sax and Clarinet, Sharon on Accordian and whistle and Steve Flaherty on Electric guitar. Theres a special appearance from Paul Brady. What a line up. I hope you enjoy the music which will be in the shops by Easter which is sometime in April, I think. Lots of tours to follow. Hope to see you at the shows.
LESLIE DOWDALL AND MIKE HANRAHAN
Leslie Dowdall and I have spent a little time working on some new songs. She now moves to Dublin so we should have more time to work. We have a few songs down and getting ready for a few gigs here in Ireland. Leslie is singing very sweetly and the ideas are flowing.
STOCKTONS WING
Would you believe it. They said it could never happen again. Well The Wing may get together later on this year to play a special Stocktons Wing Festival weekend in Ennis and wait for it .....It will more than likely be an annual event. Hopefully we will have all the pieces in play to make a full announcement in a few weeks time.
I hear that there may be a reissue of Stocktons Wing Live on CD on the way also. Ah Nostalgia!!!!!!!!!
I am listening to a great new album from Martin Furey "Monkeys wedding"----- What an amazing bunch of songs. great to have him back on the stereo system.
Happy New Year indeed.
Thanks for calling
Mike
----------------------------------------------------------------------------------------------------------------------------------------------------------------------
DECEMBER
Happy Christmas to one and all. We have been busy locked away in a studio working on the new CD with Ronnie Drew and Eleanor Shanley. Its all going very well and the material is very different , fresh, interesting and so far there's been lots of fun and good music. Ronnie is in great form and Eleanor is singing very sweetly indeed. We go back after the Christmas to finish and expect a release sometime in March followed by some live dates. We have had the privilege of working with some of our great musicians like James Delaney on Piano and keys, Paul Moore on Double bass, Keith Donald on brass, Steve Flaherty on guitar and my old pal from Stockton's Wing Robbie Casserly on Drums. I had not set eyes on Robbie for some time. He has been busy with Riverdance but he is now back in the real world and playing great music.
The Legends play Vicar Street at the end of the year for four nights. You should try to catch the gig. Meanwhile they will perform on Pat Kenny radio show on Tuesday next 20th December at 11.30AM on RTE radio.
Leslie Dowdall and I are writing lots of songs and we hope to gig before the summer. We are looking at April and all I can say is that this music is a real pleasure and working with Leslie will be a great chapter in my life.
Hope you have a good Christmas and best wishes for the new year.
Mike
November
Had a wonderful weekend in The Isle of Man although the weather was terrible. Great show and we met with the Bards. Long time since we last met. Very little to report for this month. Ronnie, Eleanor and I are spending lots of time on new songs and arrangements for the recording in December. Talk to you soon. MH
October 05
News flash .........John Spillane and Louis De Paor are working on a song for the new Eleanor Shanley/ Ronnie Drew CD. Should be special.
Work has started on new CD with Ronnie and Eleanor. We hope to write a few songs together and I think it will be a first for Eleanor and possibly a second for Ronnie. He told me once that he and Luke Kelly wrote a song together. It should be an exciting project and one I am looking forward to. We have sketched a few ideas and hope to get some time over the coming weeks to put some more work into the songs. Ronnie has asked Shane Mc Gowan to come up with a song also. It will be a very exciting project. We record in Galway at Sharon Shannon's so you would never know who would drop by.
It appears that the protest in Dun Laoghaie to save the Baths has taken a few twists and councilors are changing sides. It would be great if they allowed the people to have their say.
Leslie Dowdall is just back from a break in the US. We start back to work on the songs next week. Hooray for that!!!!!
Antony and The Johnsons are back for another show next month and thats a treat to look forward to.There's a new CD from Christy Moore well worth checking out and The Legends show has been confirmed for the end of Dec at Vicat Street.
Thanks for calling
MH
September NEWS September 05
This weekend Ronnie and Mike are in Coalisland at The Craic Theare and on Sunday at The Millbank Theatre , Rush Co. Dublin.
Ronnie Drew, Eleanor Shanley and Mike Hanrahan record a new CD in December in Galway.The three will tour in March 2006 around Ireland with some shows in Holland and Germany. Stay tuned for details.
The Legends of Irish Folk return to Dublin in December with some shows at Vicar Street.
Mike Hanrahan and Leslie Dowdall go to the Studio in January to record some songs.
Ronnie and Mike perform a series of Shows in Ireland and Denmark during October. Check tour page for details.
A very successful day at Dun Laoghaire to protest the proposed building of a monster building block on the sea front. I hope someone on the council was listening. They should do becase this was local people power protesting. THere were no other bodies trying to hijack as normally happens. This was a real protest. You could help by e mail or writing to the council. We have a beautiful sea front here and stop screwing with it. Do they ever have enough.????
The IMRO AGM took earlier this month. It was a great success. Life is good at IMRO ( Irish Music rights Organisation). I do not mention it much but it is an exciting job and these are dangerous times for songwriters with so much focus now on illegal and legal down loading. .Illegal is just that and all it gives is more money to the fat cats. Think about it. We need all the music we can get from Ali Farke Tourri to Rory Gallagher, from Kylie to Nina Hynes but if we are not careful we will be setting up expiditions for some of the good stuff. Supermarkets and video shops and so called FM stations have only limited space, taste and brain power and are guided by the magic of the euro.Keep it live and interesting.....thats what I say. I just got some new CDs. The Magic Numbers, Eightball, Devendra Banhart and the wonderful Arcade Fire. I see antony and The Johnsons got the Mercury award. You heard it here first. He is back in Ireland in November.Something to look forward to.
Aug 23rd
A couple of great shows with Eleanor Shanley, Ronnie, Keith Donald and Steve Flaherty at the weekend. It was nice to get back to the songs. Friday we had a great night in Kenmare with Ronnie. now we are getting set for The Legends gig at The Gaiety Theatre Dublin. Pat Fitzpatrick will join me on Piano/ Keys. The shows are almost sold out. Been rehearsing with Finbar Furey and Paddy Reilly. Finbar is playing some great music these days and writing a few songs. His daughter Aine is also recording a CD. Aine sings really well. Stay tuned.
MH
Aug 8th.
Busy times ahead. Next week we work with Eleanor Shanley in Leap and in Kilkenny. Details on the tour page. Keith Donald joins us on Sax and Steve Flaherty on guitar.
Getting set for The Legends gigs in September at The Gaiety Theatre in Dublin. Booking at The Gaiety. The Album is currently in the top ten in Ireland.
Meanwhile Ronnie and Mike are playing in Kenmare next week at the Riversdale Hotel.
July 4th.
Great gig with Leslie at The Island Music Club in Clare. The first of many we hope. Looking forward to writing some new tunes and working on some other songs. Tonight its July 4th celebration at The Irish Concert Hall with Ronnie. Hope its a good one. Talk to you soon. Antony and The Johnsons played Vicar Street on Sat. What a beautiful gig, truly amazing show. wow. Get to see one of the shows if you can. Not too many on this level.
MH
june 25th
MIAMI SHOWBAND MEMORIAL CONCERT
A concert to commemorate The 30th anniversary of The Miami Showband tragedy takes place at Vicar Street , Dublin on August 1st. 2005.The tragic and untimely deaths of these young stars stunned the nation, shocked the world and caused an outpouring of grief that still reverberates to this day.
It has been decided by the families and friends of Fran O'Toole, Brian McCoy and Tony Geraghty to mark this special anniversary with a concert at Vicar Street on Bank Holiday Monday August 1st. The concert will celebrate the lives and music of three wonderful entertainers who each hold a special place in the hearts of all Irish people.
The night will feature many of the legendary performers from the Showbands and Beat Groups of their day introduced by celebrity DJs and personalities.
Among the Artists confirmed are Brendan Bowyer (Royal Showband and Big Eight), Red Hurley, Tony Kenny, The Memories, The Indians, Johnny Fean (Horslips), Sean O'Dowd, Derrick (The Sounds), The Conquerors, Pat Lynch (Airchords), Brendan O'Brien (Dixies), Declan Ryan (Arrivals), Kelly (Nevada), Maxie, Rob Strong (Plattermen), Ronan Collins, The Strangers, Jack, Des Lee, Steve Travers and Paul Ashford (Miami), Bobby Kelly (Chosen Few).
The proceeds of the concert will help in the construction of a permanent memorial to Fran O'Toole, Tony Geraghty and Brian McCoy.
There will also be a special interdenominational service held at The Pro-Cathedral in Dublin at 2pm on Saturday July 30th. Eurovision winner, Dana, a dear friend of Fran O'Toole, will lead the choir. All are welcome to attend.

July 1st.
Mike Hanrahan & Leslie Dowdall ( In Tua Nua)
Venue: Minogues Bar, Tulla, Co Clare Friday July 1st 9:00pm Admission €12,
Contact: 086-8599957, www.highwaycrusheen.com
May 25th.
Hello again. I have been so lazy on the site front but I promise to improve. We had very few gigs and little to report. Ronnie and I had a great show in London last week at The Hammersmith Irish Arts centre. Really great night. Gigs are thin on the ground but rumour has it that there will be an Irish tour. Also in the pipeline are a few gigs called The Legends of Irish Folk ( no not me, still a bit to go before I can go into that bracket) Ronnie will team up with Finbar Furey, Paddy Reilly and Liam Clancy. I will be there with my guitar and I think it will be a great night of songs and stories.Look out for the show coming to a venue near you.
I have been working very hard with Leslie Dowdall on a few songs and we are hoping to put some of the work on tape for an autumn release. This is a very creative time and maybe that's why I have not been too vigilant here on the site.What a voice Leslie has and I have been going from music store to music store searching out strange sounds. I bough a wah wah during the week. Great on the acoustic guitar. Got a new Taylor guitar also. Wonderful instrument.
Last week I came across Keith Christmas. Those of you who have seen my gigs will know the song Robin Head. That brilliant song that keeps us in giggles for four minutes. Well Keith Christmas returned my message and you can find out more on the great man at http://www.kcblues.co.uk/ I hope he comes to Dublin for a gig. I will try and sort something out. It was a treat to make contact.
Last week I saw The Eels in Dublin. Great gig. Beautiful new sound. What an entertainer. Antony and the Johnsons are on their way and I hope to catch a gig.
Otherwise life is good and the new music with Leslie sounds cool and I hope to see you at some gig somewhere.
Thanks for calling,
Mike
April 21st.
Pretty boring and dull end to April after a great weekend in Geneva. Just got a great Geneva Review from Denis Mclean. Please click and read.Thanks to all the organisers for the help and great hospitality. Looking forward to getting back to finish that pint of Guiness.
Taking time out to work on some songs with Leslie Dowdall. Just building a set and writing some new songs.We have a gig in July at the Island Music Club in Clare. That will be our first. There will be a few more along the way.
Ronnie is taking time out and he plans recording a new CD over the coming months. Gigs to look out for are the Hammersmith Centre in May and The Rory Gallagher Festival in Donegal in June.
Maurice Lennon is recovering from a major op so we all wish him well. There may be a Stocktons Wing show before the end of Summer. I hope that works out. It will be good to play with the lads again.
Thats it for now.
Thanks for calling.
Mike
April 6th,
Tara Records have just released some classic fottage from The Self Aid concert, Dublin , 1985 featuring Stocktons Wing perform Beautiful Affair. Check out the stage gear and that cute dancing. Beautiful affair
March 23rd. THE GENEVA LITERARY AID SOCIETY (GLAS)in association with ANGLO IRISH BANK (SUISSE) SA present Ronnie Drew and Mike Hanrahan at the Theatre Cite Bleue, Cite Universitaire, 46 av. Miremont , Champel on Saturday, 16 April 2005 20h00
(Just 18 mins from Cornavin on the No. 3 bus to the Crets de Champel terminus just outside the theatre. There is also plenty of parking.) Bar open from 19h00
Tickets: CHF 30
For reservations contact: 079-2173357 / 079-4744706
OR email: dmcclean@ireland.com
Proceeds from this GLAS event will go towards children in Ethiopia whose parents have died of AIDS and the Global Network of Positive People. It is being staged with the assistance of the Geneva Irish Association,
March 21st. So AndrewsLane has come and gone and left behind many great gigs and memories. There is talk of going around the country with the show but we need some work on that project. Its a big task. Hopefully we will get to some venues soon. Thanks to everyone who e-mailed with good wishes and kind words on the show. Ronnie was in top form for the entire run. Hope you all had a nice Paddy's weekend and drowned the shamrock just a little bit. It was strange being in Ireland for the first time in so many years. I was somewhat removed from proceedings. I start work with Leslie Dowdall soon and we hope to put a few shows on the road later on this year. I look forward to that gig. This week I just want to relax and enjoy some new CD's. Antony and The Johnsons is a new one and a treasure. The new Rufus Wainright aint bad either. Talk to you soon and thanks for calling.
MH
15th March. Irish Times review posted on site.
14th March. Final week at Andrews Lane. Hard to believe its almost finished. On Friday night Paul Durkin attended and was very pleased with Ronnie's reading of his wonderful poem on The Great Hunger. It was good to meet the man. What a poet. My good friends John and Judy O' Shea from GOAL called to see the show and had a great time. Someone said Bishop Commisky was at the show. I wonder if he understood The Garden Of Roses. He would have been the perfect audience for every word of that song.
Yesterday, we had such a wonderful day in London at The St. Patrick's Day concert at Trafalgar Square. It was an amazing sight to see 20 thousand plus Irish waving flags and singing under the statues of Havelock and his cronies. It must have upset their slumber. It truly was a brilliant day to be Irish in London. A day to remember for all those Irish who would never have experienced such an open invitation to celebrate their National day. Whatever they say about Ken Livingstone you have to give him credit for his bridge building initiatives. We met Francis Black, Paddy Casey and The Saw Doctors. Now there's a band who rock. My old pal and ex stocktons Wing drummer Fran Breene was playing with the Doctors. Great to meet him after so many years. Paddy Casey played a great set. Excellent songwriter. Francis had a great gig with Jimmy Smith on guitar. We had a great set also. Ronnie was in fine form. Its a day I will remember for a long time. Not too many of those gigs around. Meanwhile we have a week of good gigs coming up at Andrews Lane. Hope to see you there some night this week. MH
March 11th. Week two almost down and the show is going great. There will be no show on St. Patrick's night. Traditionally that part of town goes a little crazy with celebrations , gigs, parades and revelry. Paddy Cole came to the show and invited us to perform at 4th. July celebrations at The National Concert Hall. We will also head for London Irish Centre in Hammersmith in May. Before that, The Geneva Irish Society has invited us to perform the show sometime in April. A DVD of the show will be recorded for Christmas release. All in all a busy time. Next week looks like good houses each night. Monday is quiet so if you are looking for something to do on Monday please call in.
Meanwhile good news on the singer songwriter front. Leslie Dowdall (in Tua Nua) and I will be getting together to play a few dates later on this year. We are currently working on a set.the site will post all the gigs. They promise to be good. I am so looking forward to working with Leslie. Great voice, great songs and a wonderful lady. We may throw in the odd Nick Cave, The Eels or Lamb Chop cover. You never know. No doubt we will write a few songs as well.
Thanks for calling in.
MH
March 5th. Super review of the show from The Irish Times. Should have it on site by tomorrow. It was also a great tribute to Ronnie and I think the reviewer really understands what Ronnie is all about. Good houses at Andrews Lane and the reaction is great. My Louden guitar fell apart, literally, on Wed. My good friend Paul Doyle, a great guitarist, came to my rescue fifteen minutes before the gig with a beautiful Taylor guitar. It was a close call but good for Taylor....I have one on order. Yesterday, Ronnie and Phelim, his son, recorded a very funny radio jingle. Opening night was very successful and spotted in the room were Brian Kerr, yeah the Irish football manager, Gay Byrne, Keith Donald, Brendan Balfe, Francie Conway to name a few. Brian Kerr is a great fan of the music and Ronnie has never been to a football match. We intend to bring him to the next Irish game. We also got a call to play the half time at Landsdowne for the rugby international. That should be great craic and at least I will get a good seat for the game. Des, our engineer, has left the show to fulfill a prior commitment. We will miss him. He has been superb. Julian , our producer, has gone to New York to open Riverdance at Radio City Music Hall. A step down from Andrews Lane Theatre I would have thought. Oh well we cannot have it all our own way. Talk to you soon and if you are thinking about coming to the show please book soon. Tickets are moving. All the best for now and thanks for calling in. MH
Mon 28th Ronnies day begins with an appearance on TV3 at 9AM. Great success at Tallaght Civic Theatre. Everyone's looking forward to the run. All the hard work and preparation is complete. Special thanks go to our producer Julian Erskine,Artistic consultant supreme Patrick Sutton, Production Manager Des Kenny and Sinead at Gerry Lundberg for all PR. Thanks also to the crew at Andrews Lane. Hopefully we have great success and we hope to see you at the show. Its a good night out and in my humble opinion it is without doubt Ronnie's finest hour.
MH
e-mail to; Ronnie@mikehanrahan.com
FEB 17th
The Best Irish Song supported by Today FM is causing some fun on a few sites. We are getting lots of mail congratulating the Wing on reaching the number seven slot. One or two nasty notes wondering why we are there at all. We still rear the odd begrudger. We have not heard the song on Today FM as of yet but we are hopeful that the little man who thinks he knows what should be played will find some sense, come down from the tree house, wake up smell the roses, come out from under the corporate rug and ......... Well maybe not. Hard to teach some dogs anything at all. We will keep you posted on any news of his conversion.
Meanwhile Ronnie and I play Cuala GAA this Saturday in Dalkey , Dublin. This is the final Tsunami benefit and proceeds go to the Fishermen who are trying to rebuild their lives and get back out to work.
Mike
FEB 10th.
So Beautiful Affair made Today FM top 25. In at number seven. Number seven.We are all delighted , shocked to our boots. Stocktons Wing on Today FM. Well I never.......Thanks to everyone who voted. Yippeeeeeeeeee. Thanks for all the emails and best wishes.
Heres one we received from Pat in Dublin. Its cute and has to be shared.
Seven is a great number
There are seven days in the week, seven wonders of the world, the
magnificent seven, seven up, seventh son of a seventh son, seventh heaven,
seven seas, seven principles of highly effective people, seven deadly sins,
seven continents. the minimum wage is seven euros and now Beautiful affair
at no seven in the all time greats
The Top 25 from 25 Years…
1 U2 One
2 Sultans of Ping ~ Where's My Jumper
3 U2 - With or Without You
4 The Pogues ~Fairy Tale Of NY
5 The Corrs- Runaway
6 Paddy Casey, Saints & Sinners
7 Stocktons Wing / Beautiful Affair
8 Ride On, Christy Moore
9 N 17 by The Saw Doctors
10 Revelate - The Frames
11 Bagatelle - Summer in Dublin
12 U2 Bad
13 U2 - Where the streets have no name
14 Aslan - Crazy World
15 Pierce Turner - Wicklow Hills
16 Those Nervous Animals - My Friend John
17 U2 Sunday Bloody Sunday
18 The Stunning - Brewing Up A Storm
19 Aslan - This Is
20 Sinead O'Connor - Nothing Compares 2 U
21 Cannonball- Damien Rice
22 Ronan Keating - When You Say Nothing At All
23 Paul Brady. The Island
24 The Blowers Daughter, Damien Rice
25 U2's Pride
Feb. 1st.05
Great night at The Noggin Inn for the Tsunami benefit. 20K raised for the Goal appeal. What generosity from the local people. It was a night of music with Moya Brennan and her excellent band , Ronan Johnson, Sonny Condell and Leo O' Kelly giving a brilliant Tir Na Nog Set, Liam and Fachtna from The Hot House Flowers, All the lads from Kila, George Murphy and the wonderful The Three Amigoes who made it all happen. Philomena Lynnot presented a portrait of Phillip for the auction, Paul Mc Grath, looking super fit, weighed in as did Goal directors John and Lisa O'shea. Also present were Shay Fitzgerald, Cara Hanahoe and Garvan Gallagher. It really was a great event. Good luck to Eoin from Kila with his solo project. Ronnie Drew was in great form and even managed a version of The Rose with The Hot House Flowers. Tom skerrit provided the sound bliss. If you missed it then you really missed it.
RORY GALLAGHER 10th. Anniversary gig at Ballyshannon, Co. Denegal just confirmed.
Its now Feb and the countdown to the Andrews Lane run begins. Most people have a thing about January. I like January. I do not like the end of January because it confirms the passage of time. Remaining in a state of January would do me fine. However, the year is almost over now. Hope its a good one.
MH
Jan 19th.
Ronnie Drew and Mike will be playing in Sallynoggin on 31st but an interesting idea has come up to help the fishermen get back to their boats.Three thousand Euro will build a new boat for the Island fishermen. Cuala GAA are hoping to build 4 or 5 boats. Its a practical idea and one well worth our support. The gig will also feature local musicians. More Details to follow.
Plans are well on for Andrews Lane run. Ronnie and Mike will also also play Tallaght Civic Theatre on Feb 24, 25,26,
Votes are piling in to Today FM. It will be interesting to see if the music Gods of Today FM will acknowledge your votes. We do, and we say thanks for your great support.
Orla
Jan. 31st 2005 Tsunami benefit gig
FEB 19th Cuala GAA Dalkey Benefit gig for the Tsunami Fishermen Appeal.
Christmas was a less than festive occasion after the terrible tragedy that was visited upon the people of Asian Islands. Nature is a formidable power and its ability to cause so much devastation is terrifying. Our thoughts are with the victims, their families, the broken communities and the thousands of selfless aid workers who are trying to ease the pain and suffering. Happy New year is somehow not appropriate but lets hope its a better year.
MH
The Best Irish Song Of The Last 25 Years.
The Ian Dempsey Breakfast show is holding a poll to decide the best Irish song of the last 25 years. Beautiful Affair just about makes it within the time frame.Log on to Best Song
Vote early and often.
Booking for March Andrews lane Theatre Dublin
Email: boxoffice@andrewslane.com
Dec 23 2004
Christmas is here. New York run was very successful and we will be posting reviews in the new year. Meanwhile enjoy the holiday season and see you next year.
Best Wishes,
Mike, Ronnie and Orla.
NOV 27th. New Live CD with Ronnie and Mike now available
IRISH MUSIC MAIL and Exclusive to all Celtic Note Shops in Dublin.
Nov 20th
Irish Arts Center presents
An Evening With Ronnie Drew And Special Guest Mike Hanrahan
Tuesday, November 30, 2004 through Sunday, December 12, 2004
Back by popular demand!!! A second chance to hear the wonderful songs and stories of the one-and-only Ronnie Drew (formerly of the Dubliners), accompanied on guitar by ex-Stockton's Wing frontman Mike Hanrahan in this critically acclaimed show.
Length: 1 hr 55 mins
Intermission: Yes
Seating: Assigned by SmartTix
Seat are assigned by SmartTix based up best availablity at the completion of your order.
The Irish Arts Center is delighted to announce the return of the hit show AN EVENING WITH RONNIE DREW AND SPECIAL GUEST MIKE HANRAHAN. The show played to packed houses at the Irish Arts Center in March 2004 and is now back by popular demand! Don't miss this chance to hear the wonderful stories and songs of the one-and-only Ronnie Drew (formerly of THE DUBLINERS), accompanied on guitar by ex-Stocktons Wing frontman, Mike Hanrahan. This show is an extension of their critically acclaimed show RONNIE,I HARDLY KNEW YA.
------------------------------------------------------------------------------------------------------
NOVEMBER 28th. Will be release date for new CD with Ronnie Drew and Mike Hanrahan Live. The CD features various recordings form recent European gigs at Oostende, Amsterdam, Frankfurt, Solingen, Hamburg and Dublin. After so many requests for a live Cd we can now finally get to release before Christmas. Details for on line order will be posted next week. The CD will not go on general release and will be available on line , at selected stores and at the live shows.
Tracks include: Two Island Swans, We Had It All, Finnegans Wake, Someone Like You, LaQuinta Brigada, The Parting Glass and an incredible performance of the anti war classic Waltzing Matilda. For pre order please e mail info@irishmusicmail.com. Or info@mikehanrahan.com. Thanks to Peter Keenan who mixed and mastered and Shay Kennedy on design. We have talked enough about the possibility of a CD and thankfully its now a reality.Hope you enjoy the music.
November.
Just back from Holland. We had a wonderful tour and it was extra special having Siard de Jong on stage with fiddle, bazooki, mandolin, whistle, vocal etc etc etc etc.. What a great musician. Getting ready for the launch of the new CD with Ronnie. Its almost set for pressing and hopefully it will be released by the end of this month. Those of you with pre orders will have the Cd for the Christmas.Promise. Will be setting up a purchase point here on site and will keep you posted.
Also getting ready for another run at the Irish center in New York. Looking forward to that trip.
MH
October News and Pics
New Live Cd on the way!!!!!!!!!!!!!!!!!!!!!!!!!!!!!!!!!!!!!!!!! Stay Tuned.
NEW YORK IRISH CENTER in DECEMBER
Just back from a successful trip to Germany with Ronnie. It was his last German tour but he hopes to travel over for the odd gig.we had a great time and we now hope to finish the live album which should be ready by the end of this month in time for the dutch tour. Here is a pic from Graven, The last night of the tour. Below that we see Ronnie as ever in search of information."Now what was that wrong Chord Mike was playing during Raglan Road.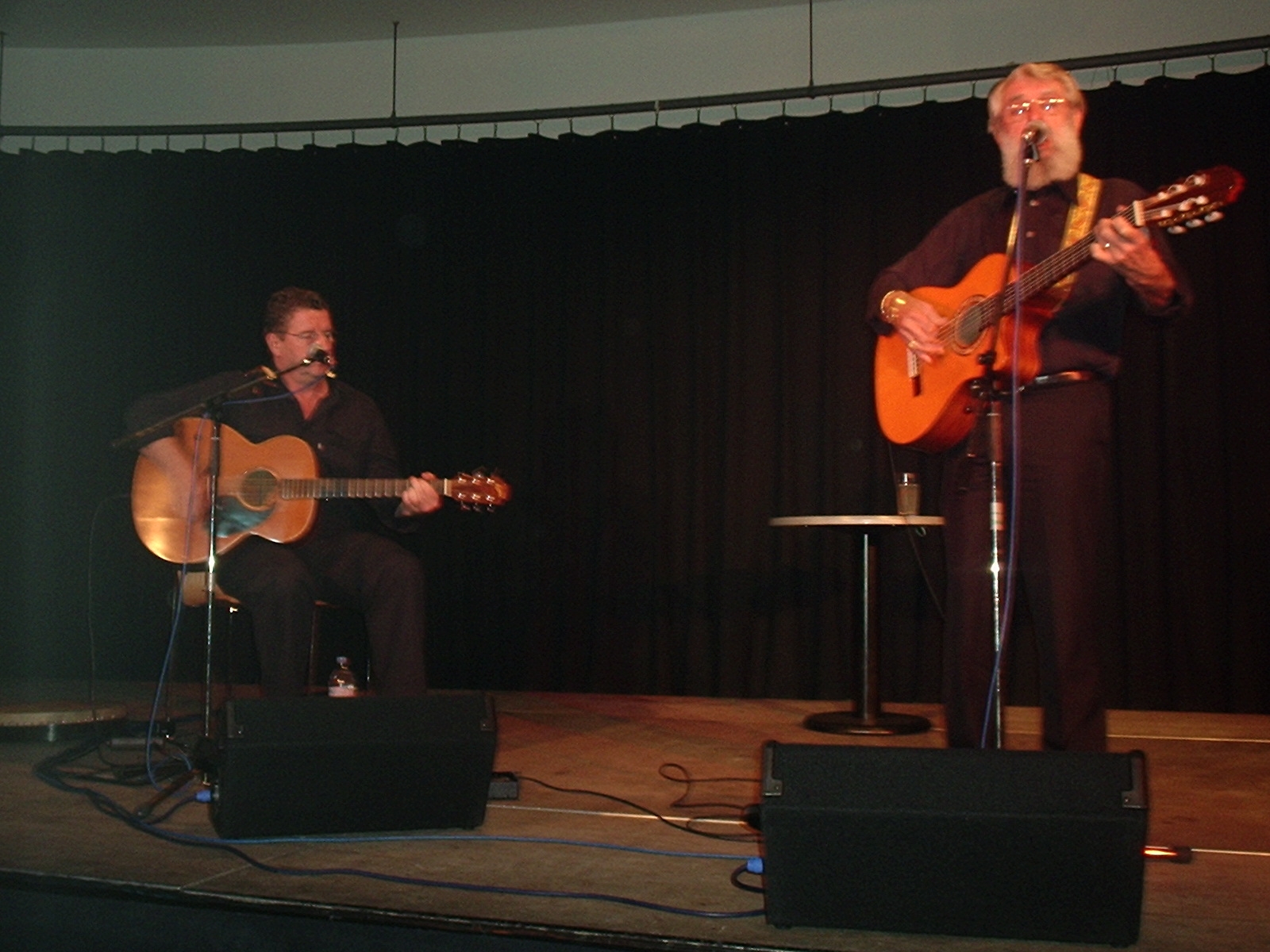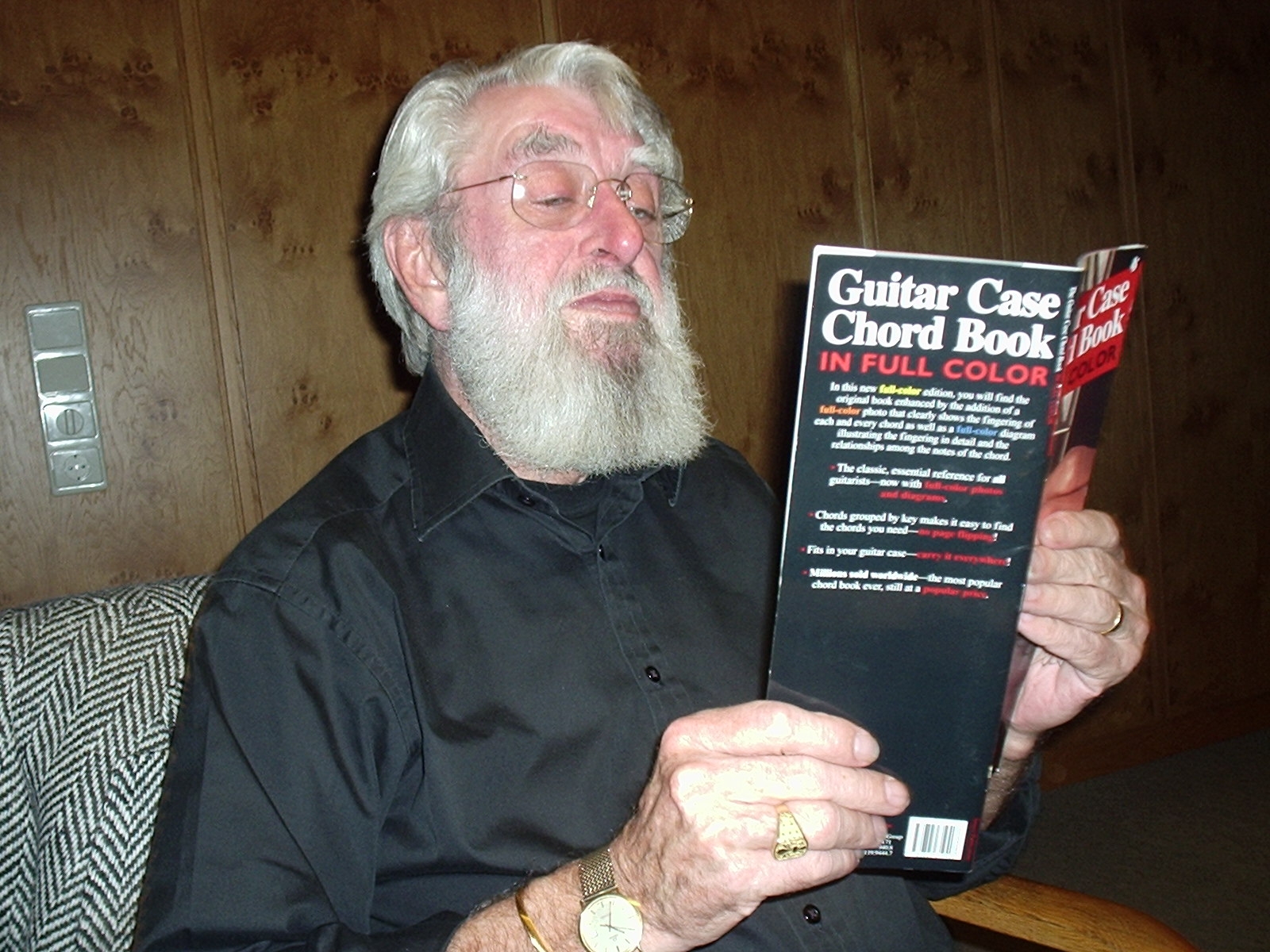 Did you know that Ronnie was 70 last month and he plans to record a CD with his favourite guitar players, Louis Stewart, Anto Drennan, Artie mc Glynn, Paco Luna,Jimmy Faulkner and Mike. He will also include a track or two with Ritchie Buckley and Myles Drennan. should be a great CD.
November should see the release of Mike and Ronnie Live in Germany. Stay tuned for details.
March of 2005 Ronnie and Mike back at Andrews Lane theatre in Dublin for a three week run of the new show.
August 23rd
Just confirmed a two week run back at Irish Arts Center at the end of November with Ronnie. Currently working on the Live CD with Ronnie. Hope to have all the work complete by the end of September. Pressure on to have it finished for The German tour.
Caught David Byrne in Dublin and he was majestic. What a night of music we were treated to. Now why can't all gigs be like that.
Tomorrow night I will be in Wexford at the Songwriters show. Next week I take a week off to prepare for what will be a very busy winter period.
Currently reading Gulag by Applebaum. Not pretty, not easy reading , not good for the soul or for ones belief in mankind but this story had to be written and we should all read it. What a cruel beast the human can be when greed and evil takes control. Depressing.
On a more positive note I have been catching up with my old music on the new Ipod. Dylan sounds great on any system. I showed the system to an old timer and proudly boasted that it held 1000 songs. He quickly replied you can still only listen to one at a time though, so whats the big deal. Hard to argue with the man really.
No more news on Stocktons Wing gigs but will keep you posted.
Meanwhile keep sending the mail. Always good to hear from you.
Mike
August 6th.
Launch pad songwriting workshop was a great success and wonder poet John Murphy sent me this adapted pic from my performance on the night. Met some great writers and we talked songs, uninterrupted for a full day. Now that's what I call heaven.
Ronnie and I had a great gig in Lorient Britanny over the weekend. There were millions of pipers and I will be listening to the sound of pipes and bombardes reverberating round my head for weeks to come. There were some great Breton bands performing on the street. Its a real festival. I really enjoyed the show..
Plans are well laid for next year to bring the show to Andrews Lane here in Dublin. It will be a welcome return. It all started at Andrews Lane in 1997 when Ronnie first introduced his theatre show to Dublin audiences. It was a resounding success. The Dublin run will be followed by a nationwide tour.
Meanwhile, At the end of August we will be back in the Burnavon theatre in Cookstown.The winter months are going to be hectic but looking forward to the shows.
I return to the Songwriters night in Wexford on August 24th and share the bill with the wonderful Leslie Dowdall. Should be a great gig.
All the best,
July 20th
Launch Pad Creative Writing Weekend
Songwriting with Mike Hanrahan Sat. 10 AM to 4PM
at the Farm Centre, Millpark Road, Enniscorthy
JULY 4th.
Its July 4th. Best wishes to all in America. Hope you have a good day. Ronnie and I are hoping to get back to New York in December. What a great city. Meanwhile, we will be in Lorient in Britanny for the festival at the end of July. We almost have a complete set of songs for the live CD and this should be out next September. Now its back to the summer and time to relax. Hope you have a good holiday too and I will update after a welcome break.
All the best and thanks for calling.
MH
June 11th.
Hi, Its been a while since I was in touch but sometimes you gotta take some time out. We had a great gig at Vicar Street and the audience reaction was something to behold. What an amazing atmosphere everyone created at Vicar Street. Something really special.
I also had a great night at the Wexford Song writers night with my wonderful host Darren Byrne. If you are in the area then check it out for a good night of entertainment. Got a great review from Jackie Hayden at Hotpress which was very welcome.
Ronnie and I are in Germany this month and we also play the Nyland Model Arts in Sligo.Check out the tour page for details. We have just confirmed Lorient Festival for August Bank Holiday. Its a long time since we played Lorient.. Ronnie is in great form and we are sifting through hours and hours of live music with the hope of a release by September.
Been reading Joseph Campbell during the past few months and what a revelation the man is. Please check him out for a few a answers.
Meanwhile George Dubya is in town and I am off to Shannon to tell him that he aint welcome.
Thanks for calling,
MH
May 13th
All looking good for the reunion gig on Sat. Ronnie Drew will turn up for a few songs and Sean Keane from The Chieftains will also be around to play a few tunes. Tickets are almost sold out which is good news for all. It should be a great night. RTE Radio will record and we will also be recording for video. Tune in To Pat Kenny on RTE radio One in the morning after 10. AM where you will hear the band play a couple of sets. Best wishes for now,
MH
APRIL 25th.
May 4th is The Ruby sessions gig in Dublin and I will share the bill with Maeve Dunphy. I heard Maeve a few years ago when she was a student at the Ballyfermot Rock School. She had so much talent as a writer, singer and guitarist. I am looking forward to the gig and meeting with her again. I notice that Roesy, another talent from the Ballyfermot school, is about to release his new CD and tour Ireland. You should try to catch Roesy at a gig near you.
Ronnie will now be able to make it to the Stockton's Wing gig after all to sing a couple of songs with the band.It should be a great addition to the night. Thanks for all the e-mails with your best wishes for the gig. I hear we are up against Eurostar. What a shame. The sooner they give that reality music show the boot the better. Time was when it was actually a song contest. Its now just another beauty pageant for the manufactured music industry.
We have started work on trying to put together a Live CD of Ronnie and I in Germany which we recorded over a few tours. There is so much music to choose from but hopefully we will have it released by the end of August.
Next week I am hoping to put the finishing touches to a licence deal in Italy for the "What You Know" CD and I will post more details in due course.
Look out for Ronnie on the Ian Dempsey show , Today FM, on May 4th.
Summer is on the way and smiling faces are everywhere. Life is good. David Byrne has a brilliant new CD and I have just heard the first recording from Pauline Scanlon. What a singer and you will hear a lot more on this emerging talent.
Thanks for calling,
MH
APRIL 12th
Easter has passed and Iraq continues to cause us so much concern. When will the slaughter of the innocent cease.Perhaps I am missing the point of it all but I cannot understand why so many people have to die to keep some of the wealthy oil barons in a lifestyle they should be ashamed of. Perhaps one day we will remain in a peaceful dream. Perhaps not.
Meanwhile I am off to Castlebar and Westport next weekend. Hope to see you there. Looking forward to singing the songs and enjoying that part of the world.
Yesterday ,Phil Mickelson won his first golf major and Clare beat Tipperary. Sometimes life is not bad at all. Sometimes.
Tickets are moving fast for the Stocktons Wing gig. It promises to be a great evening with lots of old friends travelling from places afar to hear the band again. I am really looking forward to the gig. Hope to see you there and thanks for the e-mails and best wishes.
MH
March 25th.
Just back from New York. What a great run we had at the wonderful Irish Arts Center. I will have photos and reviews over the coming days as soon as I finally land on firm soil. In New York the new show evolved into something special. Ronnie is in great form and new additions from poets Paul Durkin and Brendan Keneally add some serious weight to the content. A lot of people turned out including Milo O'Shea , BP Fallon and indeed the Honorable Ambassador to the UN Richard Ryan. My old pal Andy Breslin from Sidetracks was exec Producer and it was good to hook up after all the years. In between we had the march on Paddys Day and the following Saturday we had the peace rally down Madison Avenue. It was good to be part of this event. New York is better than ever and highly recommended for a trip. We plan to return with the show in December. We will start work on that run right away. While in the big Apple I caught Les Paul twice at The Iridium Jazz Club and believe it or not a great set from Commander Cody at The Rodeo Bar. What a gig that was.They should have named the city Three Times its so good. Looking for a place to go for some culture and good fun please check out The Irish Arts Center. If you are in New York and are looking for my CD call into Paddy at HMV on Fifth Avenue on 43rd Street. Meanwhile I have some gigs to attend to in Holland and Ireland. Talk to you soon and thanks for calling in.
Mike
March 4th.2004
Ronnie and I are heading for New York on Sunday and we open at The Irish Arts Center on Tuesday. Official opening night is Thursday next, 9th March. We performed a showcase of the new show last Saturday in Dublin which was well attended and very well received at The Gerald Davis Gallery in the City. Sincere thanks to Gerald for the wonderful hospitality.The new show still features the writings and songs of Patrick Kavannagh, Sean O' Casey and Brendan Behan but added are the works of Shane Mc Gowan, Christy Moore, Irish poets Paul Durkin and Brendan Keneally. It is a true mix of Irish writing, with the past very comfortable in the company of the present.Hope some of you can make it to the show if you are in NY. Tickets and Information please click on Other than that have a great St. Patrick's day and night wherever you happen to find yourself. I know that some mikehanrahan.com regulars are heading over to enjoy the wonderful city of New York and will be coming to the show.We look forward to your company. It should be a great St. Paddy's Day. On behalf of the Friendly Sons of The Shillelagh .....................Eye and Begorrah and keep the music live.
MH
March 1st.2004
The lyrics to the songs 'Everybody Hurts' by REM and 'Garden Of Roses' by Irish singer-songwriter Mike Hanrahan are featured in a new book entitled In Their Own Words-Coping with Rape and Sexual Abuse published by Hot Press on behalf of the Wexford Rape & Sexual Abuse Support Service.
.Contact Yvonne Pim at 0035353-22722 / Jane O'Brien at 003531-2411500.
Feb 8th. 2004
Thanks to all who came out to the Forum in Waterford last night. It was a great night. Its a wonderful venue and Shay and Karen just prove that a good venue and hard work makes life easy for the entertainer and the audience. The gig was one for the memory bank. For those of you who stayed in to watch reality TV ......well..... what can I say...Get me outa here......................mh
Feb 4th.
Went to see Paul Brady last night at the Olympia here in Dublin. What a great show. He performed lots of the the old songs with some great new ones from the up coming album.
He is there until Sat next. Well worth the effort. Hope to catch Planxty on Thursday at Vicar Street. You cannot beat folk music. It still works. Hope to have a great night at the Forum in Waterford next Sat.
MH
Feb 1st 2004
The Stocktons Wing reunion Gig at Vicar Street is now booking and we hope to add three more shows possibly in Castlebar,Clare and Killarney in Kerry. There has been an amazing buzz about the gigs and we have received some nice e-mail here at the site with best wishes to all concerned.
Ronnie and I are all set to play a two week run in New York at the Irish Arts Center.We have been trying to secure this venue for some time so we are very excited about the prospect. Its been too long since I have been to New York. If any of you need to check the gig double click on the Irish Arts Center icon below and you will get all the info you need.
The Irish solo tour in April/ may is coming together and we should have all the dates finalized within the week.I will be back at Tony moore's gig in Midleton in Cork and I look forward to that one. Tony has been out there supporting the indie sector of folk music for so many years and he has always run a great venue.
Thanks for calling,
Mike
Jan 16th 2004
Check out the tour dates for information on the Irish Arts Center in New York next March. Tickes are going very well and it should be a great run.
Jan 13th 2004
"What You Know" now available from Gael Linn
Stocktons Wing have confirmed a reunion gig for Vicar Street in Dublin on May 15th 2004.
Jan. 2004
Happy New Year to all and lets hope its a good one.The gigs in New York are confirmed for March and hopefully we will have a link by the end of the week. Thanks for all the good wishes over the holiday season. We have a busy year ahead so keep calling and we will keep you posted on all events.
MH
DEC 19th. 2003.
Stocktons Wing are penciled in for a Dublin reunion show at Vicar Street in May. We will keep you posted on all developments.There are plans for shows in Castlebar and Killarney later on in the year.
Ronnie Drew and Mike are confirmed for The Irish Arts Center in New York next March.
We are taking a break for the Christmas and will be back in January. We wish you all a very happy and peaceful Christmas and look forward to your company in 2004.
Dec 12th. 2003
Mike Hanrahan has been re elected as Chairman of IMRO for a further twelve months. According to Mike " I am delighted to receive the support of the board for a further 12 months.Hopefully it will be a good year for the organization and the entire membership. I am really looking forward to the challenge".
Dec. 6th 2003
The year draws to a close and its past us by in seconds. There were some great gigs and lots of good memories. The stocktons Wing reunion is well up there and we had a super night. Talks are already under way to put four shows together next year. There will be one in Dublin for sure and the rest will follow. We will dedicate a page for all the news and rest assured that you will be kept well in tune. It was great to meet and play some music with Maurice, Paul, Kieran and Tommy . They certainly have not lost the ability or hunger. Memory is a wonderful room sometimes for the odd visit. Meanwhile look in at Stockton's Wing
I will be in Holland with Siard De Jong sometime in April. Mark at Poucha Promotions - The Irish Music is back at the office after a slight illness and he is working on the dates. I wish him the best on his return. Siard is currently with Danny Guinan who has a new lease of life with promises of a new CD on the way.
Next year Maurice Lennon will join me for a tour and we hope to be out on the road sometime in May. He has a lot of new tunes and I am working on some new songs and mixed with some of the Wing tunes we should have a good time and make some nice music. Hope to see some of you on the tour.
Ronnie and I have just confirmed a run in New York at the Irish Arts Centre during March. We have been trying to pin this one down for quite some time and it is now confirmed. We have Dutch shows lined up for September and we are back to Germany in October.
Tradmusic.com have the CD in stock if you wish to get a last minute Christmas pressy.
The Bowie roadshow came to town and brightened up our lives. The Dandy warhols were on the bill also and I look forward to their return. The new Michael Moore book is worth a read along with The Greatest Democracy Money can Buy. Warren Zevon left us with a beautiful CD as did Johnny Cash. Here at home we said farewell to Stride Pianist Proffessor O'Brien and I have no doubt that he is tinkling the ivories on the Next Level. No harm to remember those who parted company.
Any further info required please e-mail to orla@mikehanrahan.com
Meanwhile thanks for calling in and have a good Christmas.
Mike
Nov18th
From the Cradle to the Stage
From the Cradle to the Stage by Alan Swan is one of the most exciting books on Irish music to be released in years and proceeds from its sale will go to Fighting Blindness. This publication is expected to be the ultimate stocking filler for Irish music lovers this Christmas. From traditional to classic and from rock to pop it has something for
everyone with a wide variety of artists including The Corrs (Jim Corr), Damien Rice, Juliet Turner, The Devlins, The Frames, Moya Brennan, Ronnie Drew, MIKE HANRAHAN, James Galway, Samantha Mumba, Christy Moore, The Cranberries (Fergal Lawler), The Chieftains (Paddy Maloney), Paul Brady, Ronan Keating, Westlife (Mark Feehily), David Holmes and Ash contributing directly.

For further information on PR for From the Cradle to the Stage please
contact: Sarah Conroy, Poolbeg on 01 806 3825 or sarahconroy@poolbeg.com
www.fightingblindness.ie
OCT 22nd

Hello again,
Thanks to all those of you who came to the shows in Germany. We had a great
time. Ronnie has announced that next year's German tour will be his last. He
is talking of retiring and taking things a little easier. I still do not
believe him but time will tell. Judging from the energy level on the recent
tour I cannot see him even close to retirement. Watch this space. We have
recorded a few tours now and we hope to release a Live CD sometime in the
middle of next year. We will spend the next few months listening to the
recordings. Ronnie will also record a studio album in the new year and he
wishes to record as many of his favourite old Irish songs as is possible. It
should be fun.
On the home front I am back out on the road in November. I will keep you
posted. Stocktons Wing show will be a sell out and there is great interest.
I just read Michael Moore Stupid White Men. What a read. Every home should
have one. Check out his web site www.michaelmoore.com
Talk to you soon
Mike

October 6th

Hello,
Been a busy summer and now its back to the autumn schedule with a few gigs to keep me busy.
Ronnie and I are off to Germany on Oct 10th for a few gigs. Dates are posted on the tour page.
Looking forward to our annual trip which is always a treat. Manuela and Rainer have put together some great dates.
Although I have not posted any news for a few months I have been keeping in touch by e-mail with all of you who
took time out to make contact.
Other great news is the reunion gig for Stocktons Wing in Ennis on November 8th at the West County Hotel in Ennis, Co.Clare. All proceeds go to charity and the line up will be Tommy Hayes, Paul Roche, Maurice Lennon , my brother Kieran and myself. Its been almost twenty years since this line up played together and I still remember the good times and great music. It was the time of beautiful Affair, Walk Away and the Belltable Waltz. We toured throughout Europe and the States in various clapped out transport vehicles and went to some wonderful venues and festivals. The gig in Ennis will be special. All of us are very excited and rearing to play the music.
Further details are available on the tour page.
Ronnie is taking time out working on his memoirs and it gives me a chance to play some Irish dates. I will be in Charleville on the 21st of November and will keep you posted on all other venues as they are confirmed The Kings in Waterford for Nov12th is also confirmed. Crusheen on November 22nd
I will be in Holland at the end of November and I am hoping to put some gigs together with Ger Wolfe for early December.
Until the next time take care. Oh Yeah I went to see the Stones in Concert. What a gig, what a band and what energy. Nice to see the old boys are still well up to the task and they gave us a great lesson on how to have a good time on stage.
All the best and thanks for calling.
Mike

July 4th
Hello,
It's been a few months since I posted some news. Time moves so quickly but I have had the pleasure of a long overdue holiday to relax and enjoy the time out.
I am working on a tour for September and I have also started writing some new songs. I hope to bring the songs to the studio by the end of the summer. Ace guitar man Derek Nelson resurrected my old electric guitar and I am enjoying playing it again. It's been too long and technology has moved on so far since the days of Stockton's Wing. It's incredible to hear the array of sound effects available and very interesting for some of the new songs. I have also become the proud owner of a Gibson Tenor guitar, which is taking me to all sorts of musical places. Some of the gig highlights have been Mountshannon Arts Festival and Mother redcaps with John Spillane. John is such a great performer and a superb writer.
The weather here in Dublin is typical summer….rain. So it's always a good time to catch up with some new music and I am currently listening to the new EELS CD, which is on constant play. A superb album and they play Dublin next week so I look forward to the gig. I like the new Radiohead Cd and the Frames live is fantastic. Mundy's 24 star hotel is still a regular and I never tire of the great songs.
Ronnie and I are back on the road but have been busy getting started on his biography. It's a mammoth task and he is difficult to get moving but in recent weeks he is far more focussed and producing some great writing. I think the book has great potential. I have also been busy going through hours of live recordings we made in Germany and Holland. We hope to have something to release by the autumn. So while I have neglected the site I have been keeping busy.
In May we played the Rory Gallagher tribute weekend in Ballyshannon in Co. Donegal and we listened to so many great bands play Rory's music. It's early days for the festival and I wish them well with next years programme. Rumour has it that they want Ronnie to return. You should put it in your diary for next year at the end of May.
I will be back in Germany with Ronnie in October and I will be in Holland on my own at the end of November. There is a chance that Siard De Jong may turn up for the odd gig. I am working on it as a priority. I will keep you posted.
So hope the summer is keeping you happy.
Until the next time
Best Wishes and thanks for calling.
Mike
April 24th
Hi,
Ronnie and I have been playing a few gigs around Ireland. The venues have been great and the reaction from the audience very warm and Ronnie is in great form. We have not performed the show for a while and it seems refreshed with new stories and songs. We take the show to the UK in May and dates will be posted soon on the Tour Page.
On May 3rd I share the stage with John Spillane at Mother Redcaps. John is a powerful singer/songwriter and I look forward to the gig. He has a great song called The Cherry tree, which is an anthem to all that is good in life.
A few people have been wondering about the next album. I have started to put some ideas down and I hope to record here at home, at my leisure, and try to experiment a little with sound and texture. The next bunch of songs will take me on another journey and I am all set for wherever they decide to go.
A friend of mine gave me his Gibson tenor guitar to play and I have since discovered an underworld of Tenor guitarists on the web. They are almost like a different race of people. The Gibson is beautiful and I hope after a few months I will do it justice and knock out a few decent tunes. It was built in 63' and develops character with each passing day. Some interesting projects on the horizon.
May 28th I perform at the
INISCEALTRA FESTIVAL OF ARTS MOUNTSHANNON CO CLARE with Siobhan Donnellan with Cliodhna Donnellan
On the 30th May I play at the Rory Gallagher Festival in Ballyshannon, Co. Donegal with Ronnie Drew. That's something to really look forward to. There are some great tracks on the recently released Gallagher CD of out takes and sessions with various players.
Meanwhile I am writing music for a new cartoon. This is an interesting project with different discipline, a new approach and a lot of fun.
Ronnie and I head for New York on June 1st for a two week run at the Irish Arts Centre. Its been a while since we played in the big apple and I look forward to spending some time there and catching up with some old friends.
My good friend Shay Healy is directing a video of the Ronnie Drew Show over the coming weeks and should be complete by early summer.
So that's enough to keep me going. I will post the upcoming dates in a day or so. Meanwhile, thanks for calling,
Mike
March 15th.
Hello,
We had a great time in Holland. Siard De Jong joined us for the tour and my good pal Mark Gilligan tour managed the trip. We had lots of laughs and some great gigs. The Paridiso in Amsterdam. What a venue. I saw Dire Straits play there in 1977.You can almost feel the ghosts of times past humming sweet music from every crack and crevice. I do not like to single out venues but this one is special. Ronnie was in great form and I hope we can get back there soon. Diba promoted and they are at www.diba.nl. I will keep you posted on future tours. Thanks to all the people who came out to support the tour.

The Irish "What You Know " tour was great and thanks to all who came to the shows and a sincere thanks for all the e-mails flowing in here to the site with kind wishes and words of encouragement. All local radio and RTE 1 played and supported the tour. I thank them sincerely. I do not know what you have to do to get on to those FM stations that are hell bent on playing so much dross and refuse to give Irish artists a fair crack of the whip. I tried and tried and tried and then tired. Could it be possible that I have got it all so wrong and perhaps I should concentrate my writing efforts on cloning eurovisioned ditties on world peace and puppy love.
I did read a nice review of the CD in Hot Press. That has to be a first. Maybe I am on the right track after all.
The Blair / Bush project is still simmering despite the great marches all over the globe. There are too many good things going on in the world to be damaged or destroyed by war. Our world is definitely on the brink of Falling Down but hopefully good sense will prevail and peace will remain in control.
While in Holland I went to visit the War Memorial at Oosterbeig , near Arnhem. It was an eerie experience made more so by the presence of young army recruits in training, roaming the very streets where such a bloody conflict took place all those years ago. It was a strange day. So many young people lost their lives in that area. Their memory is well preserved and respected.
Meanwhile, not to leave on a sad note……PADDYS DAY is here folks.
The friendly sons of the Shillelagh will be out in force. Dublin plans a great weekend and this will be my first year with no gig on Paddys Day. Over the years I have celebrated the day in Chicago, New York, San Francisco, Boston, Amsterdam, Den Haag, Sydney, Melbourne, London, Manchester, Dusseldorf, Dublin, Paris and this year I will be in my local pub here in Dublin enjoying the festivities over a pint of my favourite brew. Aye and Begorrah and the Top o' the Morning to Ya. I wish you all a good time wherever you are planning to celebrate the great day.
Thanks for calling,
Mike
Feb 10th.
Hi,
We have had a little difficulty with the e-mail service but its all sorted now thanks to MBE the site designers. If you have any questions or suggestions please let me know.
The tour is moving along nicely and I am enjoying the gigs and the people who run the gigs are fantastic. Its great to be back performing in Ireland. Its been seven years since I took to the stage in my own right and I sincerely hope it will not be seven more before I do it all again. Siard is coming from Amsterdam for a couple of shows and they should be special.
Talk to you soon and apologies to all of you who had difficulty with the mail service.
The letterbox is once again open for biz.
Thanks for calling,
Mike
20th January 2003
Press Release
DINKY RECORDS
PRESENTS
MIKE HANRAHAN - LIVE
Songwriter, Guitarist, Singer, Mike Hanrahan , takes to the road in February promoting his recently released CD "What You Know" on Dinky Records.
In recent years Mike has concentrated all solo work on the continent leaving a seven-year gap since his last Irish tour.
As the Evening Herald says on his new CD " It's been a long time but this fine collection was worth waiting for"
And The Galway Advertiser
"Hanrahan shows he has lost none of his ability as a fine songwriter"
Long time vocalist, songwriter and guitarist with the legendary Stockton's Wing, he joined the band in 1979 staying with them until he decided to pursue a solo career in 1995. Throughout his time with Stockton's Wing, Mike was responsible for many of the bands most successful songs including 'Beautiful Affair', Walk Away, Avondale and many more. Recently Beautiful Affair was selected as one of RTEs Top 75 Irish Songs in the history of the station. In 1997 he joined forces with Ronnie Drew for the theatre show "Ronnie I Hardly Knew Ya", and produced Ronnies "The humour is on me now" which the pair toured extensively throughout Europe, USA and UK. He continues to work with Ronnie and they have a heavy tour schedule for the coming year.The new album What You Know, a collection of 11 new songs, sees Mike once again in fine song-writing form with some stunning solo compositions as well as co-writes with Sonny Condell, Brendan Graham, Shay McNelis and Eamon Murray.
Although a relatively unknown entity as a solo performer in this country Mike has spent the last few years developing his show and a growing audience in Germany, Holland , Switzerland and Belgium.
Jan 13th 2003
Happy New Year to everyone. Hope all the Christmas and 2003 celebrations went well.
The February tour is fast approaching and I am looking forward to the gigs. I will share the bill with Sonny Condell on Feb 6th in Roscommon, Siard De Jong is coming from Amsterdam and Steve Flaherty from Ennis ( Two of my favourite musicians ) to help me out at the Dublin Gig on the 11th. There will be a few more friends at the Dublin gig which is a sort of a homecoming since I have lived here for so long now. Its at The Holiday Inn City Centre on Pearse Street. It's a great venue. Other venues are, the wonderful St Johns Theatre in Listowel, De Barras in Clonakilty, The Folk Club in Waterford with Liam Merriman, Hennigans in Sligo, A new gig in Headford called Cambells, Heineys, home to my good pal Danny Guinan, The much talked about Granary in Killarney, The Moving Stairs in Boyle and I finish with Steve at the Spa in Lisdoonvarna with my old and dear friend Paddy Doherty. It's only right to finish with a gig in Clare. Speaking of Clare I hear that The Folk Club in Crusheen is opened once again. Its where Maura O' Connell and I first began singing all those years ago back when Bush was something you found in a field and not on a warpath. Ideally he should return to his natural habitat. Meanwhile best of luck to Frank in Crusheen.
Sonny Condell and I are getting a few songs together for the gig on the 6th.
There is talk of another tour with Ronnie and Eleanor Shanley.
Ronnie and I are working with Keith Donald on Ronnie's biography.
We are also going to record the theatre show for DVD and this should happen in a few months time.
Ronnie and I are on the trail to Holland in February and we will be also having the mighty Siard on fiddle for the entire trip. We are in London for Paddy's Day. My God Paddy's Day already. Would you believe it? Time is whizzing by. So much to do this year and looking forward to it all. Better get on with it. Hope the year 2003 brings all that you deserve.
Best Wishes and thanks for calling.
Mike
Dec 19th 2002

Just a quick note to wish everyone a happy Christmas and best wishes for the New Year. The Irish tour is posted on the site and we will have the tour dates with Ronnie Drew early in the new year. It will be a busy year with work in the UK, USA , Germany and Holland. Thanks for calling and I shall be back in my cyber chair in the new year. Meanwhile I am off to toast the Christmas cheer and enjoy a welcome vacation. All the best,
Mike
Dec 2nd 2002
Christmas is just around the corner. 2002 is almost done. Where has the time gone. Normally I am in Europe at this time of the year and as I think about it I miss the Christmas markets , the hot wine, all the decorations, St Nicklaus , the shoppers, the cold wind and of course, the gigs.
I should have Irish tour dates for Feb soon. I am looking forward to getting back playing in Ireland. It's been a long time since I performed as a solo artist at home and I have no doubt it will be great. Last Sunday's gig was fantastic and I got to hear the wonderful Dawn Kenny. Ben Glover, from Belfast, was also on the bill and he too was excellent. I have been playing their respective CD's and I highly recommend a listen. As well as that I read a really nice review of the album in the Galway Advertiser. I like it when a reviewer actually listens and gets what we were attempting. I never mind considered criticism but cynical and blatant personal attack certainly puts me in a spin. Rise above it, they say, I wish I had the wings.
Ronnie and I are very busy next year. He finishes with The Dubliners on the 28th of December here in Dublin at The Point Depot. We play Holland in March, Ireland in April, UK in May and The Irish Theatre New York in June for a couple of weeks. It will be exciting to be back on stage once again with the maestro and I have no doubt the coming year will bring many good times and lots of great gigs. In between I intend to play as many solo gigs as possible. I will keep you up to date on all the news.
Thanks to everyone for all the e-mails, the kind words, the requests, the stories and the interest. It is all greatly appreciated. Keep them coming. Have a glass of Glu Wein for me and enjoy the coming festivities.
Thanks for calling in,
Mike
Nov 16th 2002

Hi , I play my first gig in Ireland next Sunday 25th. November at the Holiday Inn on Pearce Street. I have not played here as a solo artist for a number of years and I am really looking forward to the night. Duncan Maitland, and Dawn Kenny are also on the bill and its a songwriters night sponsored by the hotel in association with IMRO.
We have started putting gigs together for February and its looking good. It will be an extensive tour. I will perform as a solo artist for most of the gigs but there will be the odd occasion when Sonny Condell and his band will
join me on the stage. Its all very exciting.
The CD is on vacation at present while the big boys fight for space and loot over the Christmas madness. If you are having difficulty then I suggest you try the shop here on site. Very friendly people and extremely efficient and you will not have to wade through oceans of Best Of's and definitive collections. I wonder what percentage of Christmas Stress related illnesses occur in the halls and corridors of major Record Company offices.
The good news is that my CD will be back in calmer waters in January gently gliding by the Christmas casualty list sprawled on the riverbank. A great adage comes to mind, They also serve those who stand and wait.
Talk to you soon,
Mike
Nov 1st 2002

Hi,
I am delighted that so many people are visiting the site. I am becoming the true Web master and checking in whenever I can. I am just back from the German tour with Ronnie and it was a great success. Every town has its own Cyber cafe and they are great places to sit, work on the site, reply to the mail and keep myself updated on all the news back in Ireland. Some might say why bother with the news at all because its so depressing but hey its news and not all bad. It also gives me a chance to browse other sites and find out what some of my fellow travellers are up to.
The Tour was fantastic and I played some of the new songs. Singing a song live always brings something else out and over time a new song takes on a whole new meaning by the end of the tour. The audience at the gigs were super and as for Ronnie well he is in better shape than I have ever seen or heard him considering he has had such a hectic year touring with the Dubliners as they celebrate their fortieth year in business. I should have
some pics of the tour by next week.
I met some great people but one guy Sebastian, a carpenter is travelling for three years and a day in the old German tradition I used to read about in the Herman Hesse novels all those years ago. He travels from town to town and people take him in ,feed him and he in turn works and learns the art of carpentry at the local workshop and eventually he will be accepted as a full member of the Guild. He wears traditional suit and abides by the old rules. Its great that in a world so caught up in its fascination with innovation there is still plenty of room for tradition. Happy travels Sebastian.
I read a couple of Dermot Bulger novels on the road and I think he has the finger on the pulse, especially The Valparaiso Trail, a super story and so relevant to modern day Ireland.
I will be in Holland at the end of Feb after my Irish tour and dates will be posted well in advance. Keep well and thanks for callin'
Mike
Sept 30th 2002
Hello and welcome to my home out here in cyberspace. I will keep you updated with news and views here and if you have any comments , questions or opinions please Email to info@mikehanrahan.com
On the 27th of this month I launch the new CD "WHAT YOU KNOW" on my new label Dinky Records. Produced by my long time friend Sonny Condell it's a new collection of recently written songs.
Its been eight years since I recorded my last CD and its been too long. I have talked about it so many times over the years but at last I have a result. Recording was great fun and very creative. I had a great band, a super engineer and I had Sonny as the producer. In a few weeks I head off to promote the CD on Irish Radio and TV.
I will be in Germany in October with Ronnie Drew and dates are on the gig page.
I have just secured the rights to my first CD 'SOMEONE LIKE YOU' (1995) and it is now signed to Dinky Records. I am reworking the sleeve and it will be available within the month.
I had a query on the CD sleeve for What You Know. The artist is a friend of mine Stephen Taylor and he painted from an idea I had. He is not a professional artist …yet but he is talented. My great friend Shay Kennedy designed and created the sleeve from Stephen's painting. Shay worked so hard on this project. Shay designed my last CD and a couple of Stockton's Wing along with a fair share of Mary Black CD's.
He is dedicated to his work and deserves most of the credit for the "What You Know" sleeve. Mick Barry, who created and designed the web site uses an idea of Shay's as background to the web site. Mick used to work with me in Stockton's. What can I say.. my world is small and I find it very comfortable that way.
Talk to you soon
Mike
| | |
| --- | --- |
| Copyright © Mike Hanrahan 2017 | Design by |