Click for Main Site MIKE HANRAHAN
IRISH TIMES REVIEW March 2005
RONNIE DREW
click for Tour Dates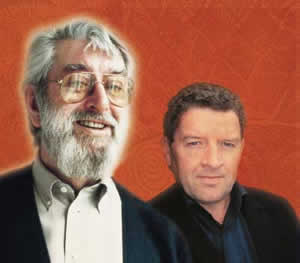 Ronnie Drew was born and reared in Dun Laoghaire on the coast of south County Dublin. At an early age he realised he was not cut out for a 'nine to five' job, especially of the a.m. variety and so in the mid-fifties he emigrated to Spain and lived there for three years. During his time in Spain he taught english, learned Spanish and studied art the of Flamenco guitar. On his return to Dublin, Ronnie met the late John Molloy, a renowned actor, who invited him to perform in a show at Dublin's Gate theatre. Ronnie worked with John in various theatrical shows, singing, acting and playing guitar. It was at this stage Ronnie learned the discipline and art of stagecraft.
In 1962 'The Dubliners' appeared from the back room of O'Donoghues Pub on Dublin's Baggot Street. Their style of music created quite a stir. In 1967 they released 'Seven Drunken Nights' entering the British Top Ten with an appearance on BBC's Top of the Pops. In 1995 they appeared once again on the show with Shane McGowan and the Pogues, with their single 'The Irish Rover'. Throughout his career Ronnie has recorded and toured with a wide variety of groups and artists including, The Hothouse Flowers, Stocktons Wing, De Dannan, Donal Lunny, Giles Servat, Antonio Breschi, and collaborated with World Music legend Jah Wobble on a recent recording 'Invaders of the Heart' featuring the works of famous Celtic poets.
On the theatrical side he has appeared in Sean O'Casey's 'Purple Dust' at the Peacock theatre, Dublin, 'Joseph and his Amazing Technicolour Dreamcoat' at the Gaiety theatre, 'Sleeping Beauty, Babes in the Wood' and a successful run with renowned actor / comedian Niall Tobin in 'Bells of Hell'.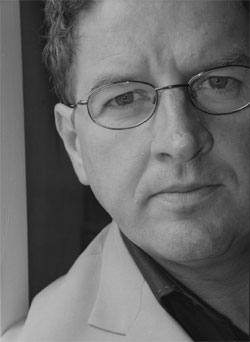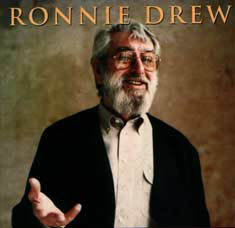 In 1997 Ronnie teamed up with ex-Stockton's Wing frontman Mike Hanrahan and together they wrote and performed the critically acclaimed 'Ronnie I Hardly Knew Ya'. The show had an eight week run at the Andrews Lane Theatre in Dublin, followed by a nationwide tour of Irish theatres and a successful appearance at the 1998 Edinburgh Fringe Festival. They have also taken the show to Israel, The Chech Republic, Hungary, Denmark,The USA and the UK.
Along the way Ronnie has released a number of solo recordings, his first being 'Guaranteed Dubliner' in 1978. In 1995, after leaving the Dubliners. he recorded and released 'Dirty Rotten Shame' featuring songs specially written for him by Bono, Elvis Costello, Shane McGowan and many More. The album which was produced by ex-Moving Hearts sax player Keith Donald also featured Dublin rock band Aslan. In 1998 Ronnie recorded and released 'The Humour Is On Me Now', produced by his stage partner Mike Hanrahan, it is a collection of songs including old classics from Delia Murphy, Sean O'Casey, and Paddy Kavanagh side by side with new songs from Johnny Duhan, Shane McGowan and Mike Hanrahan. It also includes a Brendan Kennelly poem and great music from some of Ireland's finest musicians Maura Breatnach, Martin O'Connor, Kieran Hanrahan and Ronnie's old friend from the Dubliners John Sheehan.
Ronnie records a live set with Eleanor Shanly and Mike Hanrahan in 2002 and tours Ireland and Germany.
In 2005 Ronnie released a live recording , An Evening with Ronnie Drew and Mike Hanrahan. An Evening with Ronnie Drew was produced by River Productions (Riverdance) at Andrews Lane Theatre in Dublin and also ran at The Irish Arts Centre in New York.
In 2005 Ronnie headlined the 10th anniversary Rory Gallagher festival in Ballyshannon, Co Donegal.
The Legends of Irish Folk featuring Ronnie with Liam Clancy, Finbar Furey, Jim Mc Cann and Paddy Reilly opens at The Gaiety Theatre Dublin in September. The album enters the Irish Charts at number 5.
Ronnie with Milo O Shea New York Irish Arts Center March 2004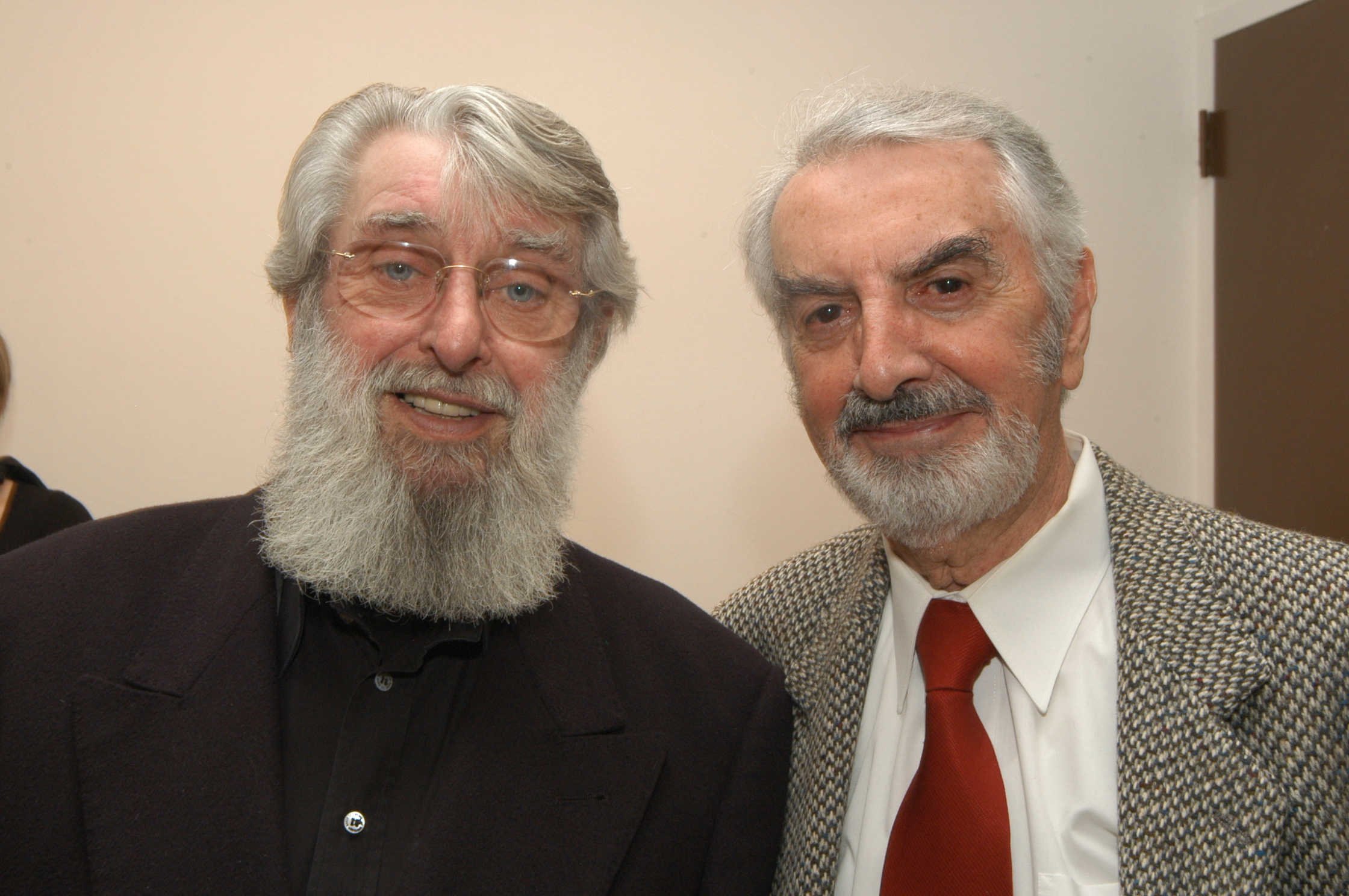 Click for Main Site MIKE HANRAHAN
---
"Hold on, I'm racking my brains....no, I can't think of a single reason why you shouldn't go to see 'Ronnie I Hardly Knew Ya!'. Singer, songwriter, sometime actor and all-round purveyor of craic, Ronnie Drew's show opened to tumultuous approval at Andrew's Lane Theatre in Dublin last night. From the anecdote about his ill-fated stint at the telephone exchange, through encounters with Behan and Kavanagh, to the ballads he does so incomparably, the former Dubliners frontman was in absolute top form. Even if he hadn't been, the magic spells weaved by guitarist Mike Hanrahan would have made the evening worthwhile. Embarrassingly brilliant - his playing had me sighing audibly"
Chris Lowry - Irish Independent
---
"One of Dublin's best loved sons (and the one with the most distinctive voice) hit the stage last night for an evening of music chat and craic. From the moment he growled "Good Evening", Ronnie Drew established an immediate rapport with the audience. Ronnie, I Hardly Knew Ya consists of a clever mix of songs and anecdotes that lead seamlessly into each other. ~Ronnie tells tales of the literary greats like Brendan Behan and Patrick Kavanagh - and their drinking escapades. At the heart of the show there is the unique humour of Dublin. Ronnie freely admits that he's not the best guitarist or singer in the world - but it's his lack of slick professionalism on stage that adds to the charm and character of this gravelly-voiced loveable rogue. At the end of the evening, I wasn't sure who enjoyed themselves more - Ronnie or the audience!"
Linda Higgins - Evening Herald
---
"Ronnie Drew's latest offering, The Humour I On Me Now, is a must for all fans of the ex-Dubliner and a definite maybe for the yet-to-be-converted to the joy of traditional Irish music. Ronnie's unique and powerful voice is ably assisted by a host of Ireland's finest traditional musicians, including, Maire Breathnach, Mairtin O'Connor, Kieran Hanrahan, and John Sheehan. Ex-Stockton's Wing frontman Mike Hanrahan produces. The Collection includes a host of classics from the era of Patrick Kavanagh and Sean O'Casey and some more modern numbers from Shane McGowan and Johnny Duhan."
Karen Murray - Irish World
---
"That seasoned showman, Ronnie Drew, does not overly indulge in Flourishes. In Ronnie, I Hardly Knew Ya, he just walks on and plunges into his act, here consisting of a well-chosen selection of songs, poems and anectdotes. His trick is simply in the delivery, and by the end he has revealed himself to be a superb entertainer.."
Gerry Colgan - The Irish Times Click for Main Site MIKE HANRAHAN

"Drew paints a Dublin picture" (Irish Echo, 8-14 December 2004)

At the start of this past Sunday's matinee performance of "An Evening with Ronnie Drew" at the Irish Arts Center, the star neglected to plug in the cord that powers his electric guitar.

Drew's performance partner, Mike Hanrahan, jumped to his feet and remedied the situation. It was a nice gesture, but Hanrahan really needn't have bothered. Drew has sufficient natural energy to drive the show he and Hanrahan will be doing through this coming Sunday, without additional help from Con Ed or anybody else.

The key to Drew's considerable clout as a performing artist involves at least two of his dominant attributes: authenticity and honesty.

Born and raised in Dun Laoghaire on the south coast of County Dublin, the singer, guitarist and tale spinner reflects the city that made him, from his harsh Dublin vowels to the candor which reverberates in virtually everything he says and does, whether he's reciting a sardonic poem by Paul Durcan or giving the audience his version of a song by Shane MacGowan.

The Durcan stanzas describe, with considerable bitterness, the social snobbery the poet feels has accompanied the arrival of the Celtic Tiger in Irish life. It's a point of view with which Drew appears to agree without qualification.

The MacGowan song leads him into a pungent anecdote about a noontime concert in which The Dubliners, the celebrated group of which Drew was a pillar for more that three decades, shared a Dublin stage with the Pogues, the aggregation of which the rowdy young sister was a part.

Standing ramrod straight through the two halves of his show, each about an hour in length, Drew manifests the intelligence, clarity and articulation which have characterized his performing from the start, whether he's relating a yarn about Brendan Behan's longitude as a housepainter, or sharing details about the life and personality of the Monaghan-born poet, Patrick Kavanagh.

There are glancing references to the years Drew spent as a keystone of The Dubliners, from 1962 through about 1995, with brief acknowledgement of vanished colleagues, Luke Kelly among them. But Drew's show is by no means a career retro, a Dubliner's equivalent to the "and then I wrote," or "and then I did" ventures to which so many American performers seem addicted.

Drew's swiftly paced presentation resonates with the singer's unsentimental view of the times of which he has been a part, and, among other things, with a clear-eyed vision of the changes, positive and otherwise, which have influenced Irish life as the decades have passed. He stands, dressed in black, except for the white cardigan sweater he adds when there's a chill in the theatre. Drew confronts his audiences directly and unyieldingly, as though he expects them to contribute intelligence and perception to equal his own.

Drew is a familiar figure on the Irish music scene, with his well-groomed head of grey hair and his abundant beard, square as a spade, but what intuitive audience members are perhaps most likely to take away with them is the memory of his directness. You get the distinct feeling that not only has he observed, close at hand, the things about which he speaks and sings, but, more to the point, he's thought about them and understood them, deeply and thoroughly.

Very seldom, perhaps at just one or two points in his program, does Drew seem to be performing something because it's expected of him, because it's a song or story that's inextricably connected to his own life. His performance is as literate as it is musical, with reflections and reference to the work and life of such Irish greats as Sean O'Casey, James Joyce and Kavanagh, to name just a few of the artists whose work is woven into the fabric of "An Evening with Ronnie Drew."

Mike Hanrahan, the former lead singer of Stockton's Wing and a native of Ennis, Co. Clare, has been teamed with Drew since 1997, when they joined forces to create "Ronnie I Hardly Knew Ya." The show enjoyed an eight-week run at Dublin's Andrews Lane Theater and then toured Ireland, the Continent, and the United States.

"An Evening with Ronnie Drew" clearly reflects the modesty and lack of pretension which both men manifest, as well as the respect and affection they so obviously feel for each other as creative artists and as performers.

There is a kind of darkness, a kind of poignant sobriety to much of what Ronnie Drew and Mike Hanrahan have chosen to perform, along with the brisk and bright recollections. Their choices include reflections about loss and death, and even touch upon subjects as risky as sexual abuse involving the clergy.

The program the pair have constructed is all the more powerful for the intelligence and courage with which they have assembled it.


More NEW YORK REVIEWS DEC.2004

"Drew's Rare Auld Times" (Irish Voice, 8-14 December 2004)
Review by Ronan Creaney

Drew's two hour show is a throwback to a Dublin and a style of performance that is slowly disappearing from the landscape. How many of today's "artists" could regale an audience with comedy, story telling, literary anecdotes and social commentary and still come out with the line, "I'm not really known for my voice!"

Drew is joined on stage by Mike Hanrahan, formerly of Stockton's Wing and one of Ireland's foremost songwriters. Hanrahan's musical skills on the bodhran and guitar expertly blend with that unique, gravelly singing style of Drew.

That the two spend a large part of the performance chatting only adds to the show's experience. The audience is given a crash course, a who's who of Irish literary characters, interlaced with little sound bites of the Ireland and world of the time. The politically correct brigade obviously hasn't managed to gain access to Ronnie yet. Thank God. He takes audience members to "The Dunes" of Connemara with Shane MacGowan and a lament for all the poor famine souls who couldn't afford a proper burial. General O'Duffy's blue shirts get a mention as does the other general, Franco.

Brendan Behan turns the tables on a famous U.S. talk show host. Patrick "Paddy" Kavanagh advances the education and bank balances of some eager American students.

The story that best defines Drew and the performance revolves around his first and only foray into the world of "pensionable jobs." During the course of his tenure and the telephone exchange he had the privilege of chatting with the minister for communication's rather proper wife.

This turned out to be Drew's last day on the job. We are all the better for it.

The heart of this performance is the music. Ten years removed from his long time group the Dubliners, Drew is still a powerful entertainer.

Old favourites like "The Auld Triangle" and "Mc Alpine's Fusiliers" are included in the set, as is a touching rendition of "Raglan Road," a tribute to his old friend Luke Kelly.

The beard might be a little greyer, but the Drew wit is just as sharp and the voice just as unique. Excusing himself to clear his throat, he explains that a matinee is not the ideal performance time for his voice. "I'm normally only getting out of bed at dis time," he jokes.

The intimate setting of the Irish Arts Center, long an oasis for Irish culture in New York, provides the ideal platform and the perfect Seisiun atmosphere for this two man show.

Ronnie Drew and Mike Hanrahan represent a style of Irish entertainer that we less see and less of today. Coming from Dublin, maybe I'm biased. Coming from Ireland I certainly am.

Go see this show while the opportunity is still there. Ni bheidh a leithid ann a

"An Evening with Ronnie Drew and Mike Hanrahan" (Irish Emigrant, 6-12 December 2004)
By Gerard Flynn

Wearing a white cardigan and black shirt buttoned up to the collar, former Dubliners front-man Ronnie Drew stepped on to the stage at the Irish Arts Center the other night for a very enjoyable evening of anecdotes and accompaniments with former Stockton Wings' front-man, Mike Hanrahan.

"People say he's a legend," Gabriel Byrne said to me during the show's intermission; he is a legendary part of the original folk movement to come out of Ireland in the 60s; friend of Behan and Kavanagh, he's a chronicler of a Dublin that's for the most part gone.Before each ballad there was the preamble, as Ronnie remembered, among other things from, fellow drinking buddies and balladeers poets Brendan Behan and Patrick Kavanagh.After a few minutes with this man you can see that he's as much a showman and a character as the poets themselves.

Through song and story, this veteran seanachai, chanted and chartered a course through the streets of Old Dublin, Famine Ireland, and the plight of the Irish laborer in 60s and 70s London.

"Mc Alpine's Fusiliers" remembered, with some revulsion, the Irish laborer and his plight in the England of the 50s and 60s and the total lack of tolerance they endured from construction firm founder, Mc Alpine, later made "Lord Mc Alpine" by Her Majesty.

Typical of his charming, and at times controversial, character, Ronnie quipped that Mc Alpine apparently remarked on his death bead, in that awfully aristocratic accent he could muster up, up "Keep the mixer going and Paddy behind it." You had to laugh, as everyone did, at the wry wit of the man.

Through the verse of contemporary Irish poet, Paul Durcan, the irascible Irishman poked fun at the New Ireland and her new elites, the "Fine Gaelers," as Ronnie called them.

The chorus, "We had it all; we had the best of times. We had a life that dreams are made of," delivered half way through the evening really summed up, in song, what the evening was all about, and what it felt like to be there - for myself and evidently for the audience.

It really was an evening of the best times and this veteran and venerable entertainer undoubtedly enjoyed it as much as we did.Click for Main Site MIKE HANRAHAN
---
| | |
| --- | --- |
| Copyright © Mike Hanrahan 2016 | Design by |